Money Update - Through 2 Weeks
by Jason -- November 10, 2009
I plan on posting a more extensive update on how we will be managing our money during the year-long trip, but for now I'd like to give an update on how the money situation went the first couple of weeks.
For the trip, Sharon and I saved $50,000. Divided by 365, this gives us $137 per day. However there were some up-front costs that reduces this daily amount. Here's the breakdown of all of our pre-trip expenses: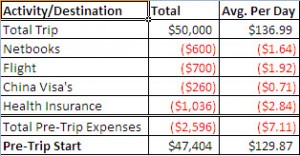 With all of the pre-trip costs accounted for, that leaves us targeting roughly $130 per day. Here's how the first couple of weeks broke down:

And how things look overall: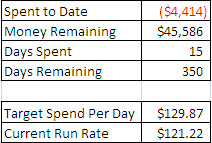 Considering that Vancouver and Hong Kong are cities on the more expensive side of our planned trip, I'm very happy with how well we're doing. In Hong Kong, we even had a $90 doctor's visit for Sharon (not a big deal, just a lingering staph infection she wanted to have checked out – all cleared up now).
Now that we're in mainland China, we've had days where we've only spent a combined $50 or less. $2.50 meals and $25 per night hostels sure are nice! This should leave our budget in even better shape for the next update.
If you're interested, link to download my spreadsheet with all of the details.
---
Be awesome and help us share:
---