How to sell books on Amazon and make some cash!
by Jason -- September 24, 2009
This past summer I looked for ways to make money…to begin enabling my Life After Cubes. One of my more successful ventures was to sell back old textbooks on Amazon. I started with my old textbooks and was amazed at how easy and how fast they sold on Amazon (No, I don't work for Amazon or earn any commission with this article-I was just really impressed with their service). Another nice benefit of Amazon is that they don't charge you anything to list an item, they only take a commission if it sells.
After selling my own books for a while, I then expanded into selling my friends books. It's extremely easy to do. In this post I'll show you how to do it and give some of the tips I picked up along the way.
Step 1: Listing items
As long as you're an Amazon member you can begin selling products immediately. The best way to add items is by searching for the ISBN number in the Search field. The ISBN number is usually found near the UPC code: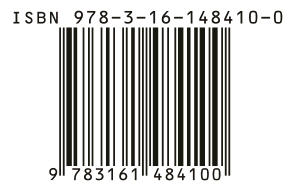 Next you'll want to ensure that you found the right book. Double check the edition number, as well as paperback vs hardcover. After confirming you found the correct book, you can click on the Used link to look at all of the Used books that are for sale: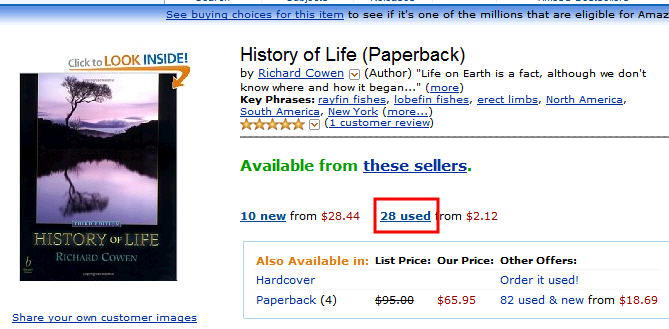 To sell yours, click the "Sell Yours Here" button on the right-hand side: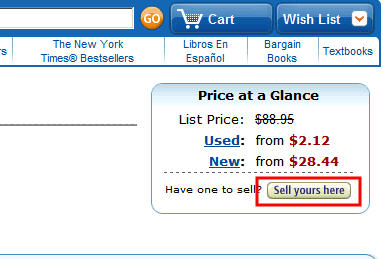 Step 2: Condition and Description
You'll now need to enter the condition of the book as well as a description. Amazon gives you the condition guidelines, which I would recommend reading.
On the description, people generally mention the speed in which they typically ship the item out, if there's any highlighting, damage to the cover or anything else unique about this particular used version of the book. My generic description is:
"Good condition! Great price! Ships next day!"
Step 3: The all important Pricing step!
I recommend looking at the different prices of the listed books and not just jumping to beating the lowest price by a penny (although, most of the time this is a good strategy). Many times however there are gaps between sellers. For example, the lowest priced seller could be selling the book a few dollars less than the second highest seller. In this case, I typically choose not to be the lowest price seller and opt to take second place and make a few more dollars. Here's an illustration:
Seller #1: $79.99
Seller #2: $87.99
Seller #3: $88.00
Seller #4: $88.00
In this situation, I would choose to price at $87.98. Meaning I would need to wait until 1 book is sold before mine is sold, but it's typically worth it to get the extra few bucks. Plus, with most books, sales go very quickly. I would not recommend this strategy if it means going outside of the top 5.
Tip: Always offer "Expedited Shipping". You'll be surprised by how many people are willing to pay for the faster shipping. And typically the difference in price to ship the item is less than the additional $3.00 Amazon charges, meaning more profit for you.
Tip#2: Condition hardly matters. Most people tend to buy on price, as long as the book is in acceptable or above condition. However, condition could be used as a "tiebreaker" — meaning if you're priced the same as another seller, but your book is in better condition, your book is typically purchased.
Step 4: You've sold a book..time to ship!
Congratulations on selling a book! You'll need to log in to your "Sellers Account" to access the shipping information.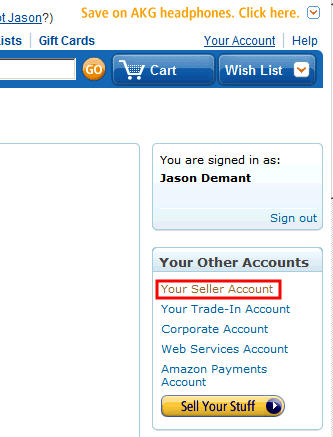 Next, you'll need to print the packing slip. I typically print 2 copies. The first copy I stick inside the book as a receipt and the other I use to cut out the address to place on the wrapped book.
For wrapping the book, I went as cheap as possible and wrapped the book in Trader Joe's paper bags. It takes a little more time (which I had), but it's also free. I sold over 45 books over the summer and did not have any issues or bad feedback regarding the packaging. You could also look for cheap plastic envelopes to put your book inside.
For shipping, I recommend using the Post Office's "media mail" service. The books typically arrive in 5-7 days and usually costs less than $3.00.
Step 5: Keeping track of your P&L (How much money you're making)
I've created a great spreadsheet for keeping track of how much money you're making. There are two worksheets in the spreadsheet. One is for keeping track of your own books and the other is for keeping track of selling books for your friends (it shows how much of the profit you keep versus what your friend has made).
In the shipping column, make sure to also include any shipping materials cost in addition to the cost of actually shipping the item (if you use Trader Joe's paper bags, you don't need to add anything!).
Download the spreadsheet (.xlsx file)
Have an older version of excel? Download the older .xls version.
Step 6: Maintenance
I recommend looking at your pricing at least once a week and adjusting accordingly. Most of the time you'll be adjusting pricing downward, as people come in and undercut you by a couple pennies to be the lowest price. However, there will definitely be times when a gap exists and you'll want to adjust your pricing upward (See step 3).
Getting Started
I would recommend simply listing a couple books and trying out the process yourself. However, you're eventually going to run out of books. I chose to ask friends if I could sell their books. Rather than having their books sitting around, a few took me up on the offer. I asked for 20% of the profit and all they had to do was hand the books over and I sent them a check a couple weeks later. It was really a win-win.
How did I do?
Over the summer I sold over 45 books for myself, Sharon and 3 other friends. I made just about $450 in "profit". (Most of it isn't true profit because the cost of the books were higher than the price I sold them for, but after all costs from Amazon, the post office, etc…this was how much I made.) I also made almost $600 for my friends. Finally, it was fun. It's really exciting seeing the "Sold, Ship Now" email from Amazon. A lot of people look for a way to make money, this is an easy, great way to start!
Feel free to leave a comment if you have any questions.
---
Be awesome and help us share:
---