Dating in Korea
by Sharon -- July 25, 2010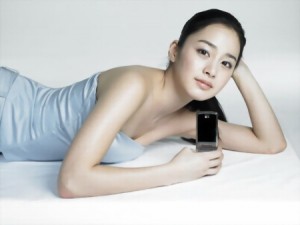 I'm going to just put this out there: if I were single in Korea, I wouldn't exactly be a hot commodity to Koreans.  Although this is just a theory of mine, I think I have observed Korean couples enough within the past 4-5 months to feel like it's true.  Here's why…
Korean women are viewed by Korean men as porcelain dolls- pretty, fragile, thin, soft, wholesome, virtuous, and extremely fair skinned.  Women here don't strive to achieve tanned, toned and athletic bodies that women in the U.S. do. On the contrary, they strive to be very thin and soft, and not in any way muscular or tan.  As a result, I feel that if I were ever caught in a cat fight here in Korea, I could snap any of the women in half over my knee.  Not that I would, though, of course.
When you see couples in public here, you will always find that the man has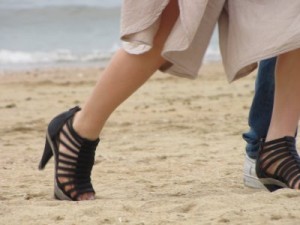 his arms around the woman, is carrying her purse, their shopping bags, and all the while she is wearing stiletto heels (I could write an entire post on Koreans wearing stilettos at all times of day, while sightseeing, and while wearing sweat pants, but I will save that for another day).  A Korean teacher of ours told us that the men here absolutely love to dote on their girlfriends.  They always carry the woman's purse and are making physical contact with them in some way at all times.  Our teacher also told us that Korean women whine a lot, and that their boyfriends think it's cute…  Really, women?  Really?!
I will admit that when I see those types of couples when I'm back home in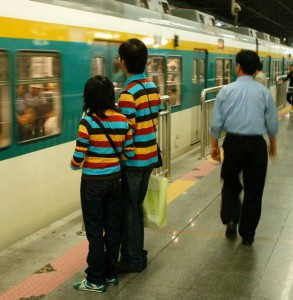 America, I roll my eyes.  Here, however, it's more common to see.  In fact, it is normal for couples to wear… brace yourself… matching clothing.  I'm not talking about a promise ring or matching bracelets, I'm talking about matching black and yellow PLAID jackets, or matching rugby shirts with matching shorts.  (Jason and I actually play a game based on this phenomenon (thanks Britt!); every time we see a matching couple, we have to be the first one to say "same-sies" and we get to hit the loser).
Although it's difficult at times, I don't like to judge other people based on what I may consider tacky, so I have attempted to reason with myself as to why this may be the case in Korea:
We have heard from other Koreans and foreigners that having a boyfriend or girlfriend is not as commonplace as it is back in America.  In fact, one of our Korean friends is obsessed with the idea of getting a girlfriend- that's all he wants but he can't seem to get one.  It seems to me that since dating is not as casual here, when you are in a relationship it makes it that much more special.  Men want to make sure that everyone knows the girl is theirs, so basically they are peeing on their territory.  Not sure if it justifies wearing matching jackets and shirts, but hey, to each their own.
Korean parents are notoriously strict when it comes to their childrens' spouses.  Arranged marriages still occur here as well, which says a lot about the culture in itself.  I can only imagine that secret dating is common here, and that when the couples are out in public it may be the only time that they can be together.  Thus, they are as affectionate towards each other as they would be in private if they had the chance.  Once again, this is a theory based solely on my observations, and in no way fact.
Because of the fact that women in Korea are so thin, fragile-looking, and take pride in looking pretty all of the time (and are always wearing 4-inch heels) I believe that this creates an overly feminine and delicate image of women; an image that makes the man want to nurture and take care of the woman who can't lift 15 lbs.  Thus, they enjoy carrying their shopping bags and other heavy things.
A couple of our friends here in Korea, who teach English and have Korean friends, also told us another interesting relationship dynamic that I thought was really intense.  When a woman is in a relationship, she does not talk to any other guys, at all.  Apparently it is a sign of respect to her boyfriend (who sounds to be incredibly insecure and overly jealous) and this means she can't even talk to her guy friends anymore.  I still have yet to confirm this with any Koreans myself, but it is interesting that once I heard about it, I started noticing that couples are never with anyone else.  They are either alone, which is virtually all of the couples I see, or they are perhaps with another couple.  Maybe this could also help explain why relationships appear so different here.
Like I mentioned earlier, these are just my thoughts that stem from a few observations that I have been noting in my head since the moment we arrived here.  I find these social points to be fascinating and I also love people watching and I am quite good at it, if I may say so, which makes me a great researcher for this type of subject.  One of my favorite quotes comes from an episode from Sex and the City: "Some people do arts and crafts.  We judge."  Not that I judge people, but I report what I see and hear.  Just sayin'.
---
Be awesome and help us share:
---