7 Life Lessons From A 27-Year Old
by Jason -- November 29, 2010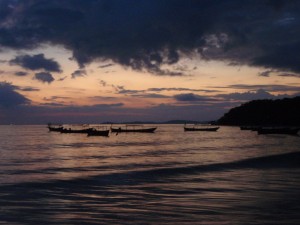 I realize the irony of the title of my post. Reading about life lessons from someone who has (hopefully) only lived about a quarter of their life is ridiculous. However, over the last year of travel I've figured out a lot about myself and where I want to go with my life. I wanted to document it for myself, so why not share it with you?  These are all are subject to change and some of them even slightly contradict each other, but after 27-years of life, here's where I'm at…
1.)    Save Money, Live Modestly
In the entrepreneurial community, there's a lot of discussion about "F-You money". An entrepreneur typically earns their "F-You money" after selling their first business. It's usually not enough money to buy a mansion and live out the rest of your days smoking Cuban cigars, but if you want to do something your own way, it means you now have the monetary means to make it happen. I, personally, don't think you need to sell your business to get "F-You Money". By immediately focusing on saving money while living modestly, you can create your own "F-you money". Creating a large savings nest was the best decision I made through my cubicle years. It's given me immense amount of freedom to travel and now try to start a company of my own.
Side thought – One question I constantly ponder is whether to put my savings into the stock market, bonds or just underneath my mattress. History tells you to put the money into the market, but history is not always an indicator of the future. More and more I think I should play it safe with my savings and take risks where I have direct control (my own business ventures).
2.)    Travel as much as you can
This probably doesn't come as much of a surprise. There are too many benefits to traveling for me to try and sum them up in a couple sentences, but here's my best attempt: Traveling gives you a better understanding of people. It  gives you a greater appreciation of your family, your friends, acquaintances, strangers and yourself. Not sure what I mean? I recommend traveling more to understand.
3.)    Be an Entrepreneur
If there's anything this current recession has taught me, it's that if you're working for someone else, you put your ability to make money in jeopardy every day. If you can make money your own entrepreneurial way, you will never be unemployed.
4.)    Say Yes
I've been guilty of not always following this rule, but if someone asks me something, I try to find a way to say yes. Whether it's a social gathering or helping someone out, I try to say yes. You can spread yourself too thin with this mantra and I think that's something to be concerned about, but if the first word out of your mouth is a quick "no", I think that's something to be more concerned about.
5.)    Be An Engineer
I believe it's a lot cooler to create stuff on your own rather than having to rely on someone else's ingenuity. In a really simple view of the world, there are people that create stuff and there are people that sell the stuff someone else created. I believe the U.S. has too many people wanting to sell stuff rather than create stuff. They're both important, but my vote goes for creating stuff — be an engineer.
6.)    Take Life Less Seriously/Don't Have Regrets
You only get to live life once, and on top of that, you're only young for so long.
7.)    Reflect Regularly
Think about where you are, where you're headed, and where you want to be. Do they all match up? Great! If not, it's not going to happen on its own. Make a change today, right now.
Your Turn
What would you add to the list? What have I missed?
---
Be awesome and help us share:
---