Our First Surfing Expedition in Sanya, China
by Sharon -- November 22, 2009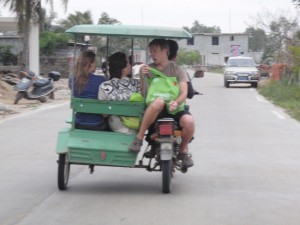 Last Monday, Jason met a guy at our hostel who was looking to get a group of people together to go on a surfing trip.  He (who on a side note was biking through Asia by himself) was looking to get a good deal from the hostel for surfboard rentals and lessons if he could gather a big group.  There ended up being eight people, including us.  After haggling all Tuesday morning, figuring out where to go, getting the boards and rash-guard shirts ready, and then figuring out how to get there with eight people, three surfboards and five boogie boards, we were on our way by 10:30am.
First of all, I must explain the public transportation system here in China.  There are a ton of buses and the bus drivers are usually crazier drivers than the rest.  There is usually a woman in uniform who stands next to the bus driver and serves as the bus attendant.  The buses sometimes don't even stop at the bus stop nooks, but instead stop in the middle of the driving lane and then start driving away while the last person is still getting on.
Imagine eight foreigners, each carrying a surfboard or boogie board, boarding the public bus in China.  If you recall my "Top 9 Things About China that Shocked Us" post, you are aware of the staring problem we have encountered just walking around town, no further elaboration is needed.  Yes, it was quite the event in Sanya that day, such an event that people driving by our bus would roll down their windows just for better access to stare harder.
We ended up passing our intended bus stop and had to go all the way back; boarding a bus with a driver who clearly was past due for a vacation because he yelled at us in Chinese as we were boarding. We then took another 'toe-up' (junky) mini-bus where I had to sit in the front next to the driver.  Once we got to our final stop, there were "tuk tuks" (Basically cheap, ghetto Chinese taxis with a guy on a motorcycle with a little two-seater cabin attached) swarming our group wanting to take us to the beach.  A couple of our new friends started bartering for tuk tuk rides, and while it seemed like it was going along well, one of the drivers raised his price at the last minute and we said no thanks.  They seem to like hiking up the prices for tourists.
Anyways, we started walking with surfboards in hand down a long rural road.  What we hoped to be a short walk ended up being a 45-minute trek through rural China with no clue as to where we were or even if there were any waves at the end of the road.
After a hopeless journey through farmland, we finally made it to some decent waves a hearty 3 hours later- by about 1:45pm.  Unfortunately, the weather was cold, cloudy and windy, but the water was nice and warm!  We all shared three surfboards and five boogie boards, and while it took me a while to get in the water due to the cold weather, I actually stood up on the surfboard on my third wave!   Jason did very well and towards the end of the day he was standing up a good amount of the time.
Even including getting lost multiple times with other travelers who didn't speak much Chinese, the day was a success and turned out to be a lot of fun.  We look forward to surfing again… perhaps Thailand?
Random Thought of the Day: Jason has been getting more comfortable with this whole "bartering" system of price compromise with a seller.  We tried buying a mango the other day, and when the vendor told us one mango cost 59 Kwai, Jason's compromise was "I'll give you 2 Kwai."  Needless to say, the man just laughed.
---
Be awesome and help us share:
---