Hong Kong!
by Sharon -- October 30, 2009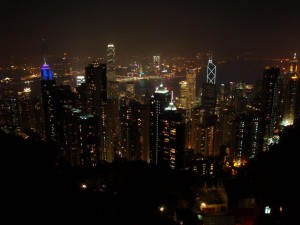 Our thirteen hour flight into Hong Kong was not as bad as I was anticipating it to be.  I ended up watching four movies, sleeping for a couple hours, and writing a post.  Jason might have slept for a few minutes towards the end, but for the first twelve hours he was incredibly productive (who's surprised?).  Once we arrived in Hong Kong it was about 6:45pm and a good 30 degrees warmer than Vancouver.  We immediately became sticky from the humidity and it didn't help that we were still dressed in our layers of winter clothing from the Vancouver weather.  Our hostel is actually not located on Hong Kong Island, but it's just a short ferry ride away in an area called Kowloon.  Luckily, it was about 8pm once we were settled into our room, so we found some food and went to bed at around 9:30 without feeling like it was too early to sleep.
Like clockwork, jet lag woke us both up at 5:30am, bright eyed and wide awake.  Once we were out on the streets, we were ready to find some authentic Chinese food to start our journey!  Unfortunately, the only place we could find that was open (other than TGI Fridays and Outback Steakhouse… seriously) was a 7-11, so we bought convenience store sushi and Starbucks, very authentic and exotic.  Then we figured out the Hong Kong Subway system a bit and found out that their MTR (Mass Transit Railway public transporation system) was amazingly cheap and convenient.  It seemed like everyone in the city used the MTR whether it was the subway, bus, minibus, etc.
We ended up finding our way to the "10,000 Buddha's Monastery" in Sha Tin and walked up a long pathway of stairs on the mountain that displayed hundreds of life-sized, gold statues of Chinese men in all different poses and expressions.  It was a little creepy, but interesting nonetheless.  Later that night we walked through a bustling street market, one that really came alive at night with its street shops and restaurants.  These markets attract tons of tourists as well as locals, and we ate at one of the restaurants that had outside seating. It was a pretty awesome experience sitting in the middle of the public market.  You see these things in movies and pictures but you don't actually think you'd be there one day.
On Wednesday we took a trip on the Star Ferry to Hong Kong Island and walked through Central, which is basically their New York-esque area of town.  The buildings are enormous and there are extremely high-end shopping malls with every designer brand name you can think of.  We ventured over to an area called Lan Kwai Fong which is popular for its many trendy bars and restaurants.  Apparently it's the hot spot for the young crowd, kind of like the Marina of San Francisco.  Our final stop was the Peak Tram which was a little trolley car that took you all the way up to Victoria Peak.  There are some absolutely amazing skyline shots from the top of the peak, and this was probably the most touristy area we had seen so far because of the beautiful views.
Random Thoughts of the Day: I have seen the cutest Asian babies in hoards and it's becoming harder to resist the urge to just grab one.  There are 7-11's on just about every block.  Jason doesn't want to go to The Spaghetti House but it's all I seem to want to do.  Every shop with a television plays Michael Jackson, and people crowd around the store just to watch him perform.
---
Be awesome and help us share:
---