40-Hour Layover: The Beginning of Life After Cubes
by Jason -- October 14, 2009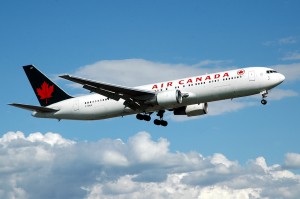 Our first stop in Asia is Hong Kong. I thought I would fill everyone in on the upcoming fun we'll be experiencing to get there.
A few months ago now, we were searching for the cheapest airfare to almost anywhere in Asia (we had no preference on where to start). We were able to find a flight from San Francisco to Hong Kong for only $350 (one-way) on Air Canada. We were ecstatic! The layover in Vancouver was only going to be a couple hours and we would have left Monday, October 19th and arrived in Hong Kong, Tuesday the 20th. Unfortunately, as we went to book the ticket, we got an error, requiring us to restart the search process. After restarting, the flight was no longer available (it probably sold-out as we were booking). The good news though, was that there was another flight for $350, also through Vancouver, however, with a 16-hour layover. We would arrive in Vancouver on Monday, the 19th at 10:00pm, sleep in the airport and then depart Tuesday the 20th at 2:00pm. Perhaps we would even have time to check out some of Vancouver. With more time on our hands than money, we decided to book the tickets.
This past Saturday night at 8pm I received a call from a friendly gentlemen informing me that our Vancouver flight to Hong Kong on the 20th was cancelled and he would like to put us on a flight the next day at 2:00pm. I thought about it and realized this now meant a 40-hour layover! I kindly asked if they would be willing to put us up in a hotel, considering we'd be at the Vancouver airport now for 2 nights. The answer? Nope!
Our other options? A 3-day trip from SFO to Vancouver to Tokyo to Hong Kong which did not sound in the least bit appealing. I declined that. Sharon and I had discussed trying to extend our layover in Vancouver a few days to see the city, so I tried to see if we could change our layover from 2 nights to 4 nights. Nope! Air Canada is fine with leaving us in the airport for 2 nights, but 4 nights is out of the question apparently. With one final last ditch effort, I tried to get us upgraded to business class. A big "No" on that one also.
Out of options, we chose to go with the 40-hour, no hotel layover in Vancouver. The good news now, is that we will have nearly 2-days to check out Vancouver. We've both never been there and have heard really great things! To be fair to Air Canada, our flights are extremely cheap, but is putting us up in Motel 6 really such a big deal? Apparently it is.
Update: After emailing this post to Air Canada, I received a response 2 days later, asking whether we'd prefer a hotel for the 2-night layover or to extend our stay in Vancouver — we chose to extend! Writing about the experience and sending them an email paid off! Read the full update.
---
Be awesome and help us share:
---