This stuff just doesn't happen in America
by Sharon -- December 29, 2009
December 23rd marks one of my favorite days of our entire
trip.  Jason and I were in a lovely beach town called Nha Trang where we took an amazing boat tour for my birthday.  In the interest of not boring you to death, here are some highlights of the trip:  Jason finally, FINALLY got to snorkel and actually see coral and fish.  We jumped off the top of the boat several times.  We saw a mediocre aquarium.  The crew performed in a "boy band", complete with a bassist, guitar player, drummer, tambourine, and lead singer.  They were actually good!
The Floating Bar portion of the tour deserves its own paragraph.  The "crazy uncle" character of the crew sat in a tiny floating circle equipped with a cooler of a vodka/orange soda drink.  Jason and I were the first ones in the water to swim to the floating bar, in which everyone then proceeded to drink cocktails in the ocean while the crazy uncle demonstrated his dirty mouth and tried to get us as drunk as possible.  His favorite phrase was "up your bum, don't tell mum!" and shouted it as a cheers.  It was one of those moments in life where I frequently stopped to ask myself "where am I?  What's going on?"  I couldn't stop laughing.
Perhaps the most random thing that has happened to us has also been the most awesome.  The crazy uncle Floating Bartender invited about 7 of us foreigners to a wedding that night.  We dressed up in our one nice outfit ("nice outfit" is being used loosely- mine happened to be the same sundress I wore on the boat trip and Jason's was his one extremely wrinkled button-up shirt) and ended up having the greatest time.  Good old Van and Minh, our newlywed besties.   They served us an amazing 5-course dinner complete with free, FREE unlimited beer that kept showing up in my glass somehow.  There was live stage entertainment where dancers performed different numbers during the entire dinner.  After the wedding, we enjoyed a night of VIP karaoke and bar hopping.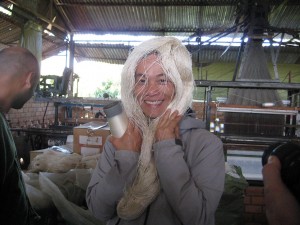 UPDATE: Due to the sheer awesomeness of our hotel owner in Dalat, Vietnam, we have decided to extend our stay in Vietnam and attend yet another Vietnamese wedding.  Our new hotel owner friend, Rot, is a flamboyant man who makes me laugh like no other, is obsessed with the song "Feliz Navidad", has sweet dance moves, and loves to sing "My Heart Will Go On" by Celine Dion at any given moment.  He has invited us to his brother's wedding on January 2.  The awesome part about this wedding is that it will take place in the countryside in his little rural village.  It will last two days, there will be more free food and unlimited beer, we are staying at his family's house for free, and the craziest part is that there will be over one thousand people in attendance- including us silly Americans.  This kind of stuff just doesn't happen in America.
Random Thought of the Day: Families in some tiny rural Vietnamese villages buy their daughters' husbands.  You can buy one for two buffalo, which is roughly equivalent to $40 USD, and then they basically become slaves while the women call the shots in the household.  While this idea may ignite excitement in some women at first, it's actually quite scary.  Some boys are bought at the age of 14, 15 or 16 and are obligated to marry whoever their parents get the most valuable items/money from.
---
Be awesome and help us share:
---