Guam: "Where America's Day Begins"
by Sharon -- October 21, 2010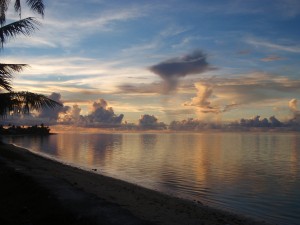 I estimate that about 40% of Americans have heard of Guam and about 15% of those people can locate it on a map.  Jason and I spent 2 weeks on this anomaly of the US.  I use the word "anomaly" because it seems to be a mystery to most Americans.  That being said, here is your lesson for today: Guam is a real place!
First of all, the term for a "Guamanian", a.k.a. person from Guam, is Chamorro.  Guam is located in the Pacific and is similar to the Polynesian islands.  Not that I know much history about Guam, but I do know that Chamorro people are also of Spanish descent.  The language spoken on Guam is English although there is still a fairly large population that speak Chamorro, the native language.
There are two reasons why I'm writing about Guam, the first being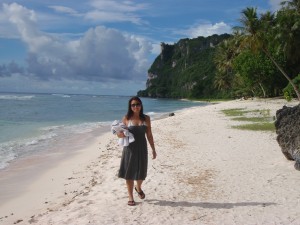 that I am ¼ Chamorro.  My paternal Grandfather is from Guam.  The second reason is because Guam was our first entry back in to the United States!  We flew from Singapore to Guam, marking the end of our romp throughout Asia.  It was quite the experience; hearing English everywhere, being able to communicate, driving our own car, and paying US prices with US Dollars.  Seeing that sign as we entered US customs that read "Welcome to the United States" nearly brought tears to my eyes.  Well, not really, but it was quite the breath of fresh air.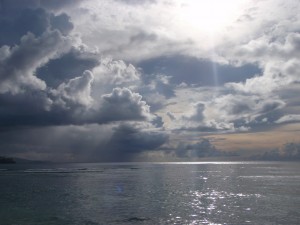 Guam was, in a way, like coming back home.  After being in Asia for a year, it was refreshing to be able to hear American English accents all around.  The little things that you take for granted, like being able to ask the cashier for change or asking for directions, felt like blessings.  On the other hand, Guam also felt like we were on an American vacation in Hawaii.  There were resorts everywhere (in the main part of town at least) and the landscape was nothing like what we were used to back at home.
Jason and I stayed at a cute little guest house owned by a local.  We found that hotels were regular US prices and hostels were completely non-existent.  If anyone out there is looking for a long-term vacation rental home, we would recommend www.judyflores.com.  It was a great sized house for two people and it is in great condition, although it is located a bit far from the main part of town.
---
Be awesome and help us share:
---