Quick Update: We're still alive and kicking!
by Sharon -- January 29, 2010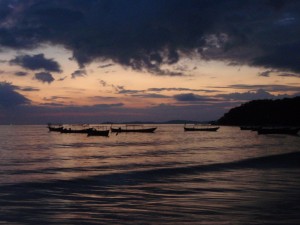 We have finally made it to Thailand!  After spending over a month in Vietnam and then three weeks in Cambodia, we have finally crossed the border into the most heavily touristed country in Southeast Asia.  Unfortunately, we only have 13 days to spend here since a tourist Visa is only 15 days and we experienced an unexpected 2-day delay in Siem Reap.  We both contracted some strange flu-like sickness that caused our stomachs to be pissed at us for days (they're still a bit testy).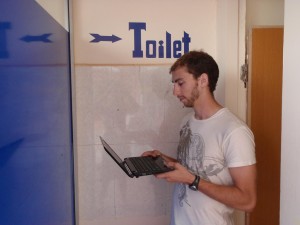 Just to let everyone know, the three weeks we just spent in Cambodia proved to be the hardest three weeks of our trip to find a decent WiFi connection, let alone have internet in our own room.  The things that we do, the great lengths that we take for a decent WiFi connection are now typical.  I know I have not been responding to emails as quick as I usually do, nor have I been on Skype recently.  Not to worry, Cambodia is to blame!  For real, though, finding internet has been a difficult task for us the past few weeks.
On the bright side, we are currently on a charming island located on the Eastern side of the Gulf of Thailand called Koh Chang.  We recently had gone on a snorkeling boat tour in Cambodia where we met a nice American fellow, who happened to be the scuba dive instructor, who referred us to this island if we wanted to scuba dive.  Like the carefree youngsters that we are, we thought "sure, what the heck?" and decided to become PADI (Professional Association of Diving Instructors) certified scuba divers!  To those of you who are now thinking, "but they've never been scuba diving in their life, nor have they ever expressed any interest in diving, in fact Sharon is scared of the ocean, and Jason is afraid of seaweed", your thoughts a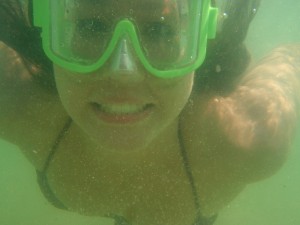 re correct (except for Jason being afraid of seaweed).  However, we have met divers along our travels that all tell us the same thing: it's nothing like anything you will ever experience in your life.  We took their advice and decided to utilize our beautiful surroundings for a purpose.  Plus, it's  cheaper to become certified here in Thailand than it is in the States, so that's nice.
More to come on our scuba adventures, but we have already gone through a day of scuba diving theory in an Olympic sized swimming pool today.  Let me just say that breathing underwater, even through a scuba diving regulator, is NOT as easy as it seems!  Tomorrow we dive in the ocean for the first time in our lives… EVER!  This day will be documented forever in our minds.
---
Be awesome and help us share:
---