Siem Reap & An Angkor Temple Itinerary
by Jason -- February 2, 2010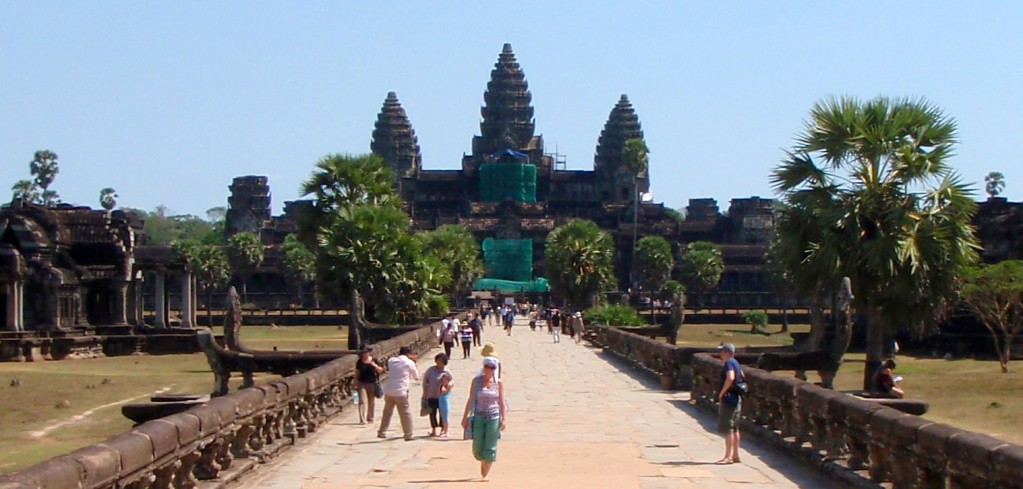 Sharon and I have now wrapped up our 2+ week tour through Cambodia. The last few days were spent in Siem Reap touring the various Angkor temples. There was quite a buildup for the temples. We saw models and pictures of them in Phnom Penh, Angkor Wat is pictured on Cambodia's money as well as their flag, and we heard great things from numerous other travelers. Once there, we were not in the least bit disappointed. The temple's size, intricate details and uniqueness do not fail to amaze. In this post, I'll give a quick background on the Angkor temples, offer advice on seeing the temples and also provide a 2 or 3 day Angkor itinerary.
Brief Angkor Temple Background
The temples of Angkor were built between 802AD and 1220AD by the Khmer civilization and "represent one of humankind's most astonishing and enduring architectural achievements"1. There are over one thousand temples, with the most magnificent one being Angkor Wat, literally meaning "city temple". Many of the temples are still used today as Buddhist temples. The Angkor area is believed to have been populated by potentially one million people and is considered to be the largest preindustrial city in the world.2
General Angkor Advice
The temples should not be seen in one day. There are too many and too many great ones to pack into a few hours. While you might think you would get "templed" out, the uniqueness of each temple allows you to hold great interest in each new site. As you see more, it's also enjoyable to contrast them as well as notice similar structures, stones, characters and faces.
Itinerary Advice
Our itinerary ended up being a really enjoyable experience. We purchased a 3-day pass. Our general plan was to take a tuk-tuk the first day and hit the main temples surrounding Angkor Wat and then the second day essentially bike around the "short route" and see the major temples of Angkor Wat, Thom and Prohm. Our third day was going to be used to see temples lying much further outside of the primary Angkor area.
Tip: They offer a 3-day pass which can be used on non-consecutive days. The Lonely Planet version that I read did not mention the non-consecutive 3-day pass , so it might be a new addition, and is great if you want to take a break between days of "templing".
Recommended 2 or 3 day itinerary: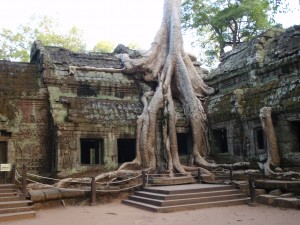 Day 1 – Hire a tuk-tuk to drive around the various sites – it's a good way to familiarize yourself with Siem Reap and the temple area. Temples to see:
Preah Khan
Neak Pean
Ta Som
East Mebon
Banteay Samre (Recommend eating lunch on the longer drive either to or from this temple.)
Pre Rup
Banteay Kdei
Sras Srang
Notes on Day 1: This day could have been done on a bike, but it would be a long and rather exhausting day. With a tuk-tuk we had plenty of time to see each sight and we left the hotel at 10 and we were back by 4. Shorter days are typically our preference. We like to have relaxation and computer time built into our days.
For lunch on Day 1, I would recommend a restaurant along the road towards Banteay Samre. There looked to be a few places, and since Banteay Samre is slightly off the beaten path, I imagine the prices would have been far more reasonable.  (We did not do this and instead ate at a place right outside East Mebon — it was a relatively expensive and overall a very mediocre lunch. Plus, it would have been nice not to have four locals sitting with us in attempts to sell you a t-shirt or oversized pants.)
Day 2 – Rent bikes near your hotel-the earlier start, the better. Temples to see:
Angkor Wat
Angkor Thom

Bayon
Baphuon
Phimeanakas
Terrace of the Leper King
Ta Prohm
Notes on Day 2: This was a longer day that had us biking back in the dark (thankfully, on a well lit rode). We left the hotel at 10, which was a little too late. It would have been nice to start this day earlier to have a choice of where to watch the sunset (I wouldn't recommend Ta Prohm). Other than that, this was an excellent way to see the Temples.
Day 3 – Hire a tuk-tuk or motorbike driver. These temples are further, so a tuk-tuk is going to be more expensive.
Kbal Spean (River of a Thousand Lingas)
Banteay Srei
Beng Melea
Notes on Day 3: As mentioned, we did not get a chance to do our planned day 3. If we had more time in Siem Reap, ideally we would have taken a day off and then seen the outlying temples.
Regardless of being able to see the outlying temples, we had an amazing couple of days. If you're ever in Thailand, Siem Reap is not far and well worth the bus ride over the border.
1 - http://www.sacredsites.com/asia/cambodia/angkor_wat.html
2 - http://en.wikipedia.org/wiki/Angkor
---
Be awesome and help us share:
---