Going Big in Beijing: Chinese New Year 2010
by Sharon -- February 23, 2010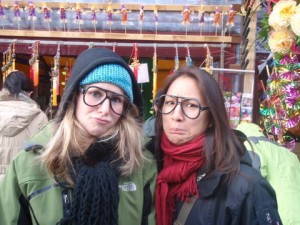 Once upon a time, four American twenty-somethings found their way to Beijing via a… fascinating… overnight train experience.  There were only two beds reserved for the four travelers, not including two other seats located in some unknown area which they assumed to be the baggage car or the meat locker.  Luckily for them, they could easily share the two beds between the four of them, and that they did.
After falling peacefully asleep, we were waken by two unnecessarily loud train servants yelling at us in Chinese.  We figured they wanted us to stop being American and go back to our meat infested "seats" where we belonged.  Unfortunately, Matt and McKenna (our travel buddies that we initially met in Sanya, China and traveled to Beijing with) were poked and prodded like cattle to their seats.  They ended up in a packed car, not too dissimilar from a baggage car, where they were locked in with the rest as if they were planning a train massacre.  It must have been their blonde hair.
Beijing on Chinese New Year 2010 did not look like the same Beijing on
Chinese New Year 2010 that we had envisioned in our minds before we arrived.  We were preparing for jam packed subway stations, people pushing and shoving, oceans of black hair on the streets, and crazy Chinese shenanigans on every street corner.  We learned that the pushing and shoving was just a Chinese thing to do all year round, and to our surprise the subways were fairly empty and there were no street parades with stereotypical dragons and fish lanterns as far as the eye could see.  Instead, it was a normal, clean and cold city.  How boring!
On the contrary, we had quite the New Years' Eve.  The day before NYE, we were going about our daily business around town when I noted that in order to experience the "real" Chinese New Year, all we had to do was become best friends with a Chinese local that day and they would inevitably invite us to a NYE party and we would eat Chinese food and drink and be merry.  Easy enough, right?  Less than an hour later, we went to a supermarket and proceeded to befriend a Chinese local who quoted Mitch Hedberg and invited us to a NYE dumpling party where we would drink and eat Chinese food.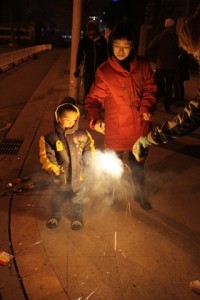 That night we were served ten different homemade dishes of Chinese food at a nice apartment and met some really friendly people.  Then we went outside to watch a serious amount of fireworks, some of which epitomized the sarcastic phrase that we coined, "Asians are #1 with safety", as children lit fireworks and threw them at us.
We ultimately found a bar with fairly cheap drinks and danced the night away.  I also learned that no Chinese DJ will ever play anything that I request.  The first time, I requested a specific song to which they said something to me in Chinese, then never played it.  Then I requested a specific song by Michael Jackson, to which they said something to me in Chinese and held up one finger, then never played it.  The third time I requested "ANYTHING by Michael Jackson.  Just play Michael Jackson.  Any song of his.  A-N-Y-T-H-I-N-G", to which they nodded in acknowledgement, then never played it.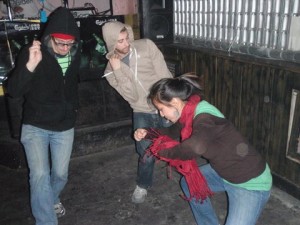 Nonetheless, the six of us foreigners ended up getting inebriated enough to either: A. black out while dancing, B. get into a fight, C. throw up in a taxi cab (one of the guys we were with, not us), or D. get back to our hostel in a safe and boring manner (us).  It was a fun night to be had by all.
Chinese New Year consists of fireworks for about two weeks straight, which to me was nothing less than annoying.  The first few days were exciting!  You could see fireworks during the day and can easily find them in the sky at night wherever you were.  Then after NYE, they kept going.  Then they lasted even longer than you thought.  And then they really didn't stop.  And then you found out that they didn't stop until February 28th and it was only February 20th.
Our general Chinese New Year experience was one to remember.  Most of this can be attributed to the fact that we were with our friends and were no longer two lonely losers who had no friends (Thailand was the exception to this).  Also, one of the most amazing experiences of my life happened on this trip to Beijing; hiking the Great Wall of China.  Stay tuned for my next post on the Great Wall that proved breathtakingly beautiful and made my legs so sore the next day that I walked like a constipated centaur.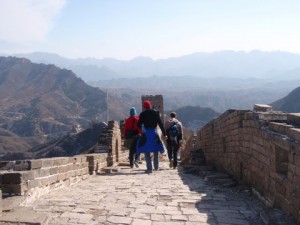 ---
Be awesome and help us share:
---