Traveling For A Year Isn't Luck
by Jason -- September 2, 2010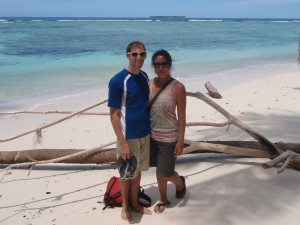 I don't normally create blog posts that consist of a rant, but, this post is a rant. I'm tired of being told how lucky Sharon and I are that we get to travel the world for a year. That's not luck, we made that happen.
There are many things in my life that I would consider lucky; this trip is not one of them. Here are a few things I'm particularly lucky for: I was born to two awesome and supporting parents, Sharon finally decided to date me, I've got my health, I didn't buy a house in 2007 when everyone seemed to be buying a house. That's luck.
How did we make this trip happen?
Not luck. We prioritized the trip above all-else. We sacrificed going out. We didn't buy new cars. We lived in a pretty small room with 2 (sometimes 3) other housemates. We automated our savings – creating a little stockpile of money for when we get back and then saved up as much as we could for the actual trip. Nothing in there is luck, we made that happen. Sure, you could argue that having jobs to support all of that was lucky, but if we didn't have the jobs, I guarantee we would have found another way.
I'm tired of people saying how lucky we are, that we were lucky to quit our jobs and travel the world for a year and they can't. I typically smile, nod my head, and agree with them how lucky we are, but deep down I know they can be "lucky" too. Of course you can, you can do anything you want. Admit it, it's simply that you won't do it. And why won't you do it? Do you have a house? Sell or rent it. Kids? Bring them with you. Debt? Create a plan and pay it off. For every excuse out there, there's a solution. As long as you first admit that you CAN do it and it's only yourself that's the barrier.
End of rant. Have a good day.
---
Be awesome and help us share:
---