Exciting new update!
by Sharon -- April 1, 2010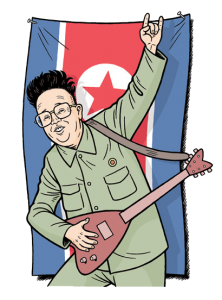 We have been offered the opportunity of a lifetime!
A North Korean communist newspaper contacted us last week and explained to us how they had been following our travel blog for some time.  They said they wanted to offer us the opportunity to become guests bloggers/writers for their publishing company located in Pyongyang, North Korea.  We would be living in North Korea and experiencing the "real" Korean ways!  That means they will put us up in a real North Korean village, where they assured us that internet would be provided at a local PC room, as well as 3 meals of rice and kimchi a day, and a bicycle to share for transportation.  We would have to commute to the office twice a week, which is 25 miles away from our village, but we have a bicycle so it should be fine.  This opportunity just sounded too incredible to pass up, so we decided to take them up on their offer.  We leave for North Korea in a private military plane next Wednesday!
Once we arrive, they said we would be participating in traditional North Korean initiation ceremonies.  No elaboration on this was given, but I'm sure it will be an exciting experience.  Now that I think about it, I believe they mentioned something about wearing the North Korean flag.
We will be sure to update you on our North Korean travels as soon as we can.  Until then, we will continue to look forward to our new adventure!
---
Be awesome and help us share:
---