Itinerary Update #3
by Jason -- May 11, 2010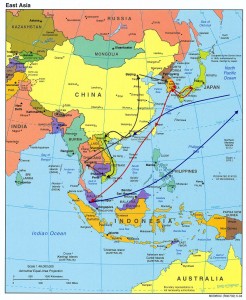 Sharon and I are currently on a bus from Daegu to Busan, South Korea – however, as you're reading this we are eating sushi and udon in Japan. This post is a quick update on our itinerary and plans for the rest of the year.
Just last week, our 2-month apartment rental in Seoul wrapped up. We were sad to leave because it was nice having a home again.
After leaving, we spent a couple days sightseeing in Korea with Sharon's parents. As mentioned, we'll be spending about a week in Japan, seeing some friends from home as well as renewing our South Korean Visa.
When we return to Korea, we'll be doing some more sightseeing – Jeju Island, the DMZ (North & South Korea border), and a couple other places – before we settle down again in the southeast Korean city of Busan. We hope to rent an apartment, find a Korean language class, another Taekwondo gym and chill out for a couple months.
This will put us into mid-August with just 6 weeks left before we head back to the states. Our tentative plan is to head to Taiwan for a week or two, followed by either Malaysia or Indonesia. We hope to find a nice location on the beach where we can practice our surfing and catch up on our tan before we head back to the states. If you have a recommendation on a location, let us know!
In the states, we have 3 weddings in 5 weeks that we're excited to attend and in between we'll do some traveling along the west coast. We'll be spending Thanksgiving, Hanukkah, Christmas and New Year's in the states, but after that your guess is as good as mine. South America anyone?
---
Be awesome and help us share:
---