A Very Loose Observation on Korean Fashion
by Sharon -- May 7, 2010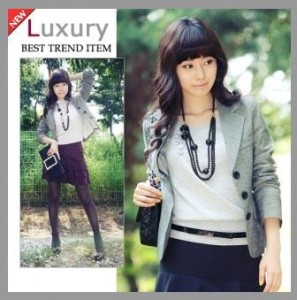 In my last post, I commented on the homogeneity of South Korea regarding the lack of foreign food available.  In this post I will assert my observations about Korean fashion that I have accumulated in the past 9 weeks and how I believe Korean fashion also contributes to the homogeneity of this country.
One general note: all Koreans, men and women alike, are very much into looking their best at all times.  You will never see a young Korean girl without face make-up to create flawless skin, nor will you ever see her with a bad hair day.  The men are also very conscious of their appearance and look immaculate in their work outfits at all times.
WARNING: As with many of my observational posts, this information is not intended to evoke prejudice or discrimination in any way.  These are simply things that I notice as a silly American pretending to be cool enough to be as stylish as a Korean.  Koreans are very into aesthetics and looking nice all the time, so clearly I am a boring, backpacking half-breed compared to the skinny, perfect skinned, stylish Koreans on the subways.
I have observed that fashion in Korea is generally on two opposite ends of the spectrum for both men and women.  Please take the following observations into consideration:
For women:
The main unofficial uniform for women is simply the following: apatterned (usually some sort of tiny floral pattern) mini-dress with a built-in elastic belt at the waist, a black or navy blue blazer, a messy bun on the crown of the head, black tights, and very high black heels.
The main unofficial uniform for "casually dressed" women is the following: 80's acid washed jeans (skinny jeans, of course), a t-shirt, a very long cardigan, and a pair of Converse sneakers.
For hair, almost every woman has very thick blunt-cut bangs and some shade of orange/copper as the remnants of a previous dye job.  Having dark hair myself, I shed a tear for every woman with a pumpkin-colored 'do.  I feel their pain.  I know what it's like for bleach to turn my hair orange.
For men:
All-black suit, and tie for work.  Nothing else.
The men's casual attire consists of the following: they also wear jeans, Converse sneakers, a hoodie, and always…. ALWAYS…. a Major League Baseball hat.  We have received confirmation from our trusty 15 year old Korean friend that MLB hats here are simply worn for style, and do not represent any type of loyalty to their favorite team.  It's actually quite interesting to see all of these Koreans wearing MLB hats because at first we were amazed at how popular American baseball is in Korea.  We saw tons of Yankees hats, A's hats, Red Sox hats and thought "this is awesome!"  But then we started seeing hats for the Royals and the Pirates….
Asian hair is very straight and coarse, and one of the most popular styles that I have seen is the deep side-part with side bangs and very, very jagged razored layers.  Just think "very emo".
Another interesting thing I've noticed: there are quite a few "bowl cuts" amongst many grown men here.  Not sure if it's to be funny or if it's just a really ahead-of-its-time, innovative style that I don't understand yet.
As I write this post, I am on a bus from Seoul to Daegu, so I await in anticipation to see if the fashion in Daegu is just as "same-sies" as Seoul!
---
Be awesome and help us share:
---