My First World Cup
by Sharon -- July 6, 2010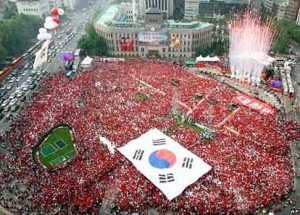 I'm happy to announce that the World Cup 2010 was the first time that I ever found myself enjoying soccer!  Being in a foreign country, where the people actually watch soccer in between World Cups, was one of the more exciting things we've experienced on this trip.
As you may know, South Korea made the final 16 teams this year.  It was an amazing experience to be able to join in with the entire country, wearing red, while cheering the team on.  During the games, you could literally hear the entire country cheering each time Korea scored a goal.  It was something that you would never see back in the States in such magnitude.
The Korean soccer team fans call themselves the "Red Devils".  For months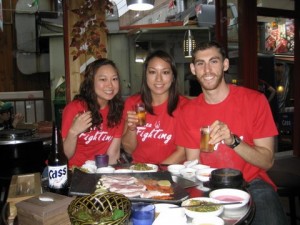 before the World Cup began, Korean TV showed heaps of Red Devils commercials with everyone wearing red shirts, devil horns, red bandanas, etc.  The World Cup is such a big deal here that all of the hottest K-Pop bands and celebrities make their own songs dedicated to cheering on their team. And of course, they're all wearing red in the music videos.  When the first game aired, my sister Jennie was visiting us in Busan and we ended up buying red soccer shirts to wear during the games.  We were officially fans!
The first game was South Korea vs. Greece.  We found ourselves seated outside, sitting amongst Korean fans, in front of a bar with an HD television playing the game.  Everyone wore illuminated devil horns, red shirts, face paint, and bandanas in support of their country. Unfortunately, this was the only game they won.
The second game was South Korea vs. Argentina. Coming off the big first game win, Jason and I were pumped to watch this game.  Unfortunately, we ended up not even making it down the block and just went to the first restaurant we saw that was playing the game.  To our credit, they had installed a projector just for the game, so it wasn't too pathetic of us.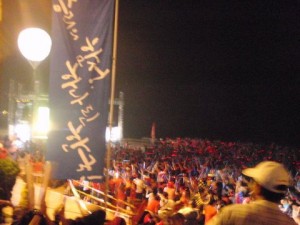 The third game was South Korea vs. Nigeria; what a trip!  This game was at 3:30am, the ungodly hour that I had been fearing.  We took a "nap" and woke up at 2:45am, took a cab to Haeundae Beach (the most touristy and popular beach in Busan) and was absolutely astonished at what we saw.  Thousands upon thousands of Koreans, all dressed in red, sitting on the beach that had been transformed into an ampitheater, watching a concert-sized television screen in the sand.  It was such a trip to be in a country that values soccer and its national team so much.  We felt pretty elated-especially since they tied and moved on to the top 16!
The last game was South Korea vs. Uruguay; we ended up watching the game
at a Western bar in Haeundae Beach.  There were just as many Koreans as foreigners, which was fun, and we were joined by tons of other foreigners wearing Red Devil t-shirts.  Koreans and foreigners alike were stoked for the game and cheering their hearts out.  Unfortunately, the bar felt like a sauna and the team lost.
Watching the World Cup amongst both Koreans and foreigners was a pretty unusual experience.  The sense of comradery between people of different countries was high, as Koreans high-fived Americans and Germans after a goal.  Being in Korea during this time is something I will always remember.
---
Be awesome and help us share:
---