In a Muslim World
by Sharon -- August 31, 2010
Fact: Indonesia is the world's most populous Muslim-majority nation.
Fact: Jason and I have spent the last 2 and a half weeks in Padang, Indonesia and a surrounding city called Bukittinggi which are both cities of the island of Sumatra.
A vague "fact": The population of Muslims in Padang, Indonesia is somewhere in the vicinity of 95%.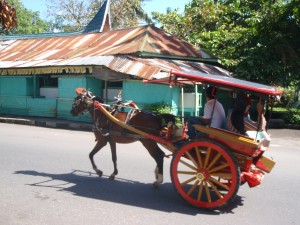 In a nutshell, being in West Sumatra, Indonesia (Sumatra is the biggest island in Indonesia) is like stepping into a different world, especially when you were just in Korea for 5 months.  According to Wikipedia, Indonesia has a Muslim population of over 86%.  That's a huge demographic considering the fact that Indonesia consists of over 200 million people and over 17,000 islands.
That crazy demographic is especially evident in Padang.  Although this may seem obvious, coming from California, I have never seen so much traditional Islamic clothing in one area.  It's a pretty humbling experience when it is that visually apparent how far from home you really are.  We have traveled to underdeveloped places on this trip that have been completely unfamiliar, but being here has really put our foreignness into perspective.
Of course, it probably doesn't help that we happened to travel to the most Muslim-populated country in the world during Ramadan, the Islamic month of fasting from sunrise to sunset.  Whoops!  Try getting some lunch in Padang when 95% of the people here don't eat lunch this month.  We have resorted to eating at a fast food restaurant called CFC for lunch twice (believe it or not it stands for California Fried Chicken, how ironic, right?).  Jason refuses to eat there again.
So this whole Ramadan thing in Indonesia has been a real experience.  The people here wake up at about 3am, 4am, 5am, etc. every morning to eat and pray before the sun comes up, then they go back to sleep (some of them do at least).  There are Muslim mosques everywhere you turn here, and can you guess what happens at these mosques every morning at 3am?  They scream at you.  Literally.  They actually have loudspeakers that not only play the same chant and music every morning, but they blast it up so loud that it wakes up everyone in the vicinity.  That's its true purpose- to wake everyone up to eat and pray before sunrise.  I also notice that at one point, the recording sounds like someone screaming "WAAAAKE UPPPPPP!!!!!!  WAAAKKEE UPPPPP!!!!"  Can you imagine what this is like for us non-Muslim Americans?  Needless to say, we have gotten into an absolute habit of wearing earplugs to bed, even though the chanting is so loud that it still wakes us up every morning.
---
Be awesome and help us share:
---