Personal Update: What's going on in Busan?
by Sharon -- July 12, 2010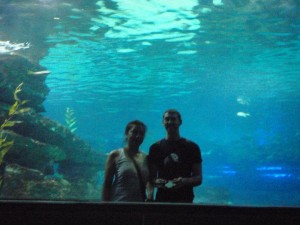 As I write this update, Jason and I have been cooped up in our ridiculously small quaint and charming studio apartment in Busan, South Korea due to pouring rainfall all day.  We were lucky enough to find this apartment from a Korean man who speaks excellent English and rents out only to Foreigners.  At a whopping $208 rent per month, we are back to living under our daily budget that was grossly exceeded while traveling to Japan (although the trip was well worth it).
Here are some quick updates as to what we have been doing since settling down again for the past month here in Busan:
After a couple of weeks of searching for a dance studio, I finally found a dance academy that offered Jazz, Hip Hop and K-Pop dance classes.  To be honest, I could easily teach the class that I'm taking, but I couldn't care less because it's fun and it's hopefully going to fit me into an undersized bridesmaid dress in November.
Jason also successfully found a Taekwondo studio.  He doesn't quite like it as much as his last studio in Seoul, but it's about a 3 minute walk from our apartment and he is now a Green Belt!
Jason and I are now volunteering two days a week at a community center.   I wish I could tell you that we actually do something, but we really don't.  So far we have just been sitting around, doing our Korean homework or reading for 2 hours until the kids come.  Then we just try speaking to them in English for an hour until they go to dinner.  Last week we made Tteokbokki, though, which was really fun.  I ended up getting some good tips!  Hopefully we'll start doing more than sitting around soon.
Jason and I have finally been able to surf again!  Yes, it was only the second time on this trip, and my second time ever, but it was a success.  We both stood up on the board a few times and met a few people in the water.  I don't think I'll be entering any competitions soon, but we're planning on surfing much more once we reach Indonesia.
After weeks of searching for a Korean class, I finally found the perfect venue.  Two classes a week for 2 hours per class with a teacher who speaks fluent English.  SCORE!  Unfortunately, my early hopes of becoming somewhat conversationally fluent in Korean on this trip have been kicked to the curb, but I hope to continue learning the language while we're back at home.  (Mom…)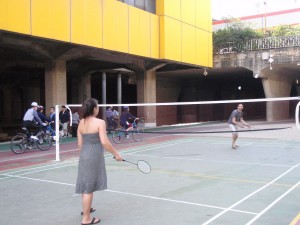 So there is our somewhat boring update.  Once we settle down somewhere, the exciting factor in our lives plummets, but it is not unwelcomed.  I love having a home, albeit a tiny excuse for an apartment, and I love becoming familiar with the areas around our home.
Pretty soon, we'll be heading out of Korea and into new territory down towards Indonesia.  For now, we are just enjoying homemade food, our own space, and most importantly the Mega Mart directly across the street from our apartment which has unfortunately become my favorite place.  Oh how I will miss my Mega Mart.
*In case you missed it, check out our featured article on The Professional Hobo: A Week in the Life of Jason and Sharon: Life After Cubes!
---
Be awesome and help us share:
---