"Do More Faster" Book Review
by Jason -- January 26, 2011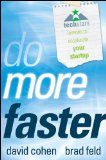 I recently read "Do More Faster" by David Cohen and Brad Feld. It was one of the best books I've read in a long time. I was able to immediately implement many ideas from the book with my startup, Unanchor. In the following post I'll provide an outline of what you'll be able to find in the book as well as a few of my favorite lessons.
Book Background
David Cohen & Brad Feld are the founders of the startup incubator Techstars. "Do More Faster" is a collection of lessons and stories from the authors, the mentors of Techstars, and the companies that have participated in the program. Each chapter is essentially a long blog post written by one person.
The book primarily focuses on lessons, examples and tips for entrepreneurs in the web space. A lot of the lessons are applicable for general business, but you will get the most out of this book by being interested in the web space.
The book is divided into 7 primary themes. Within each theme there are several chapters written by different authors.
Theme 1: Idea and Vision
The first set of chapters are about the idea you base your company around. It includes tips and stories around finding an idea, getting started, testing your idea and changing the idea (pivoting).
The big lesson I took out of these chapters was not to get too attached to your initial idea. It's very common for companies to do something completely different than their initial idea.
Theme 2: People
The second set of chapters focused on the people that you build your company with (they recommend you don't do it alone). Finding a co-founder, hiring, firing and the culture of the company are all topics discussed in this section.
One of my favorite chapters, "Engage Great Mentors" was found in this section. It was the story of the company Foodzie, who went through the Techstars program, and their fantastic approach to leveraging mentors.
My favorite nugget was the idea of "closing the feedback loop". I love asking for advice, but something I need to improve on is circling back with those people to let them know what I did with their advice. Even if I end up not taking someone's advice, I'm now trying to "close the feedback loop" with the advice giver and let them know why I chose not to use it.
Theme 3: Execution
The third set was my favorite set of chapters. These chapters focus on making it happen, advice on dealing with all of the data you'll have, and many other topics.
A great chapter in this section was "Don't Suck at E-mail". It's short but is loaded with great advice that made me realize the importance of email. A few of the recommendations:
Use Email as a branding opportunity – send emails from @Unanchor.com rather than @Gmail.com.
Touch Email only once – either reply or setup an action to take care of it later.
Be persistent – if you don't get a response at first, follow-up.
Keep your Emails concise and direct.
Theme 4: Product
The 4th section is a hodgepodge of advice focusing on various tactics around your product.  The chapters range from when to first roll out your product, to focusing a whole chapter on pivoting.
Theme 5: Fundraising
Often a big part of starting a company is raising money. This set of chapters focuses on that process. The first two chapters in this section begin by trying to convince you that you don't actually have to raise money. They are the stories of two companies that did just that and chose to bootstrap their companies instead.
The rest of the chapters focused on various aspects and advice around angel investing.
The last chapter of the section is written by Brad Feld, where he recommends to focus on the first 1/3 of the money you're trying to raise. Because of the social nature of angel investing, once you have that first 1/3 locked in, often, the rest of the money just falls into place.
Theme 6: Legal & Structure
If you're not planning on incorporating a company, you will most likely not find this set of chapters very interesting. However, if you're like me, and are now going through the process of incorporating a company, these set of chapters are a great resource.
This section offers advice on when to form the company (early), what kind of company to form (S corp vs C corp), why vesting is a good idea and others.
Theme 7: Work-Life Balance
It's easy to be a workaholic. There's always something else you can do.  With a startup, it's even easier, because if you're not making progress on the company, most likely no one is. In this chapter they remind you of the importance to have a work-life balance.
To steal a quote from the current book I'm reading (4 Hour Body), the author Tim Ferriss asked Richard Branson (founder of Virgin) how to become more productive. His answer? Working out. He believed daily work-outs gave him 4 hours of extra productivity a day.
Conclusion
The reason I fell in love with this book and will read it again and again was that I felt it was written for me. Almost every chapter had some piece of information I could immediately apply to Unanchor.
If you're currently a web entrepreneur or an aspiring one, the book is a must read. It's the type of book you don't read just once, but come back to over and over again picking up new grains of wisdom each time.
Book Excepts
Over on the Techstars blog they've been posting full chapters from the book. Here are a few that have been posted:
As always, by purchasing the book through the links above you'll be financially supporting Sharon and I. We hope to buy a king size Kit-Kat with the money, thanks!
---
Be awesome and help us share:
---