The Demantski Update: Post Wedding, Honeymoon, and Korea
by Sharon -- February 18, 2011
We reall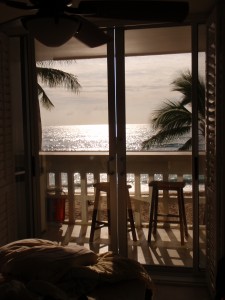 y lucked out.
I'm sitting on our personal balcony facing a picture-perfect ocean view of our own little bay. Not only is the weather amazing, but the sand is soft, the water is warm (but not too warm to the point where it's no longer refreshing), the beach is not in the least crowded, and I'm sitting next to my new husband.
This is our honeymoon, and although it's almost as if we're still traveling, there's something highly romantic and new about this week. The house that we rented is perfect; it is newly renovated with Italian marble-looking floors (I don't really know what Italian marble looks like, but I assume it is probably like this) and balcony, new kitchen appliances, and all of the beach amenities we could ask for.
Since we got engaged and began planning the wedding, Jason and I never really felt that getting married was strange or surreal. We had been together for 4 years and had spent an entire year pretty much talking only to each other while in foreign countries. Getting married was nothing new except for shelling out thousands for a wedding and making our relationship "forever legal"- until now. Being on our honeymoon is freakin' surreal, in a good way of course. There's nothing like being on your honeymoon to make you realize how romantic you can/should be.
Now, as I write this post, Jason and I are about to hop into our own little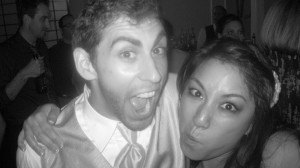 ocean with our little boogie boards and our precious little beach umbrella.
Now here's the downer: in three days time, I will be on a 13 hour plane ride directly to Seoul, South Korea to begin a new teaching job in which I have no idea what age group I'll be teaching, where I'll be living or how nice my employers are. The worst part is that I'll be on the plane sans my new husband. That's right, Jason will be flying in to Seoul one week after me. The first week will be "orientation week" for new teachers and I will be living in a dorm with a roommate, so Jason would have had to stay in Korea by himself while I learned teaching stuff.
As much as it sucks having to leave our life in San Francisco behind, again, I am genuinely excited to temporarily settle down in one apartment with Jason for a year. We're both excited for Korean restaurants again- cheap food made by Korean moms everywhere you look. I am NOT excited for the idea of starting a new job after experiencing the splendors of being unemployed for a year and a half, but I AM excited that I will be a teacher.
Hopefully my next post won't be about how much I hate my Korean school… Fingers crossed!
Random Thought of the Day: This is my first post in… like 3 months! I really dropped the ball.
---
Be awesome and help us share:
---