Guest Post Round-Up
by Jason -- June 17, 2010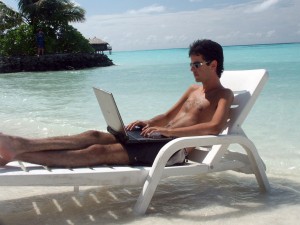 To help get the word out about UnAnchor.com, I've had a busy last few weeks writing guest posts and interviews for other blogs. In this post, I'll share the different articles that have already been published.
Our Interview at JetSetCitizen - This was a fun interview Sharon and I had the opportunity to do. Find out about our thoughts on traveling as a couple, our advice for people considering long-term travel and much more.
UnAnchor.com Interview at Foxnomad - This interview focused on just UnAnchor.com. I discuss the background of UnAnchor, tips for writing high-quality itineraries, and the vision for the site.
Six Things Nobody Tells You About Running Your Own Location Independent Business - A guest post for LocationIndpendent.com in which I discuss the many surprises I discovered while creating & launching UnAnchor.com.
4 Ways Every Traveler Can Make Money From Their Travels - A lot of articles discuss how travelers can make money while traveling, but in this article I wanted to show a few ways travelers can make money directly from their travels. One of course being writing itineraries for UnAnchor.com.
Your Guide to Creating Itineraries (And Hopefully Making Money) with UnAnchor - This was a guest post written for Tech Guide for Travel, in which I give step-by-step instructions on creating itineraries for UnAnchor.com.
In a couple weeks I plan on sharing my results of these guest posts, as well as discussing how UnAnchor.com is going thus far.
Image credit: Giorgio Montersino
---
Be awesome and help us share:
---