9 Things Koreans Do That Make Me Laugh
by Jason -- July 27, 2011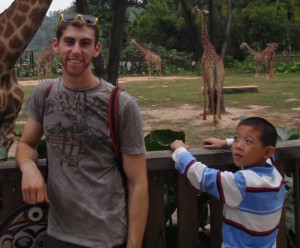 Having grown up half-way around the world in a Western culture, I recently realized that for this reason, there are many things in Korea that I simply don't understand. However, that's not to say I can't help but laugh at them. Here's a list of a few things that Koreans do that make me laugh.
Wear Shirts with Ridiculous English Phrases – It's my understanding that most Koreans are able to read English and if that's the case then many Koreans are hopefully also laughing at the ridiculous shirts people wear. My two favorite examples – 1) An older woman (age 60's – 70's) was wearing a shirt that said "Who the fuck is Mick Jagger?". 2) A roughly 15-year old girl (could have been 10 or could have been 30) was wearing a shirt that said "Cum again". I really hope they have no clue what their shirts mean.
Couples wear the same clothing together – I'll never understand this, but couples will literally wear the same obnoxious t-shirt, shoes, pants, or all of the above and then go out in public together. To us, it's just tacky.
When I don't understand what they're saying in Korean, they will just yell it louder… in Korean– Besides the "dumb, stare look" I also know how to say in Korean that I don't understand. Instead of trying a different word or using their cellphone to translate, they typically choose to yell the same thing repeatedly at me instead. Sometimes they even start yelling it slower, as if enunciating another language will suddenly make me understand it. I can't help but laugh when they do.
Come to my door selling things – It's not often, but every once in a while I get a door-to-door salesman who rings our doorbell. Their reactions are priceless. After opening the door, one lady took one look at me and just closed my door for me. Another gentlemen gave a really surprised look when he saw me, but decided to try and speak to me anyhow. He said one sentence, I gave him the "dumb stare look" and without saying anything he just bowed to me and walked away.
Extremely drunk businessmen – Korean men typically wear formal black suits to work. It's quite the contrast to the jeans and polo I'm accustomed to in the Silicon Valley. It's very normal (in fact, sometimes required) for co-workers to go for a few drinks together after work. What's hilarious though is seeing the businessmen stumbling along the streets at 2pm, hammered, but still in their fancy looking suit.
Extremely drunk hikers – On the weekends, it's the older men that typically make me laugh. They get decked out in their hiking gear and then proceed to get extremely drunk. What's particularly hilarious about these guys, is it's usually around 3pm when you see them this drunk. They're the ones passed out on the subway on their neighbor who they've never met.
Extremely drunk college women – In the states, extremely drunk college women are probably best known for doing stupid things like "Girls Gone Wild". In Korea, it's nothing like that. Instead, extremely drunk college women become incredibly worthless human beings. They're easy to spot. Here are a few places to be on the lookout for them — lying down on the subway floor, throwing up on the streets, sleeping on the stairs of a building or just being carried around by their friends. Korean college women, as I've seen, tend to either be very sober or very drunk without any in-between.
Men carry their girlfriends purse – I won't begin to guess why men do this (but, Sharon has), all I know is seeing a semi-masculine dude carrying a pink lacey handbag is ridiculous looking.
Korean "exercises" – Older men and women are most guilty of this one. There are outdoor workout parks all over Korea (which I love). At all of these workout parks, you'll find Korean men and women sitting down and swinging their legs back and forth, standing up and doing shoulder circles, or just plain swinging their arms around the air every which way. This apparently is what they constitute as "exercise".
If a Korean person visited the states and created a list of "Things Americans Do That Make Me Laugh" — what do you think would be on the list? Leave a comment below and let me know!
Picture credits: Matching couple, man carrying  his girlfriends purse
---
Be awesome and help us share:
---