Good Morning Vietnam! - An Itinerary Update
by Jason -- December 3, 2009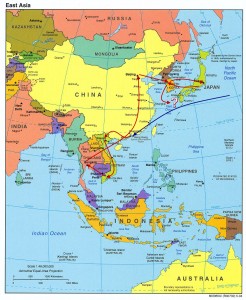 Greetings from the 3rd country on our trip, Vietnam. We are currently in Hanoi, staying at possibly the nicest hostel we've stayed during our trip, The Hanoi Guesthouse. I'd like to use this post to give an update of our itinerary, as our plans continue to change.
We left China with one "crazy week" of traveling followed by a few relaxing days waiting for our Vietnam Visa. The "crazy week" saw us traveling from Sanya, (the southern tip of Hainan Island) to Haikou, Hai'an, Zhenjiang, Guilin, Yangshuo and then finally Nanning. It was exhausting and fun (and the subject of a future post). All of our pictures are posted in the gallery.
We exited China on exactly our 30th day in the country, which is all our Visa allows (a little risky!). We're allowed to enter and exit as many times as we want during the next year, but can only stay 30 days each time.
Now that we're in Vietnam, we once again have a 30-day Visa. We're planning on using all 30 of the days again and so will be spending Sharon's birthday, Christmas, and New Year's in Vietnam.  After Vietnam, we'll be heading into Cambodia and then Thailand.
The next important date for us is February 9th. We have a flight from Bangkok back into China for Chinese New Year. We'll be spending it in Beijing, assuming everything goes to plan. We fly from Bangkok to Guangzhou (found a $60 flight on AirAsia.com), and then we'll need to take a 20-hour train ride from Guangzhou to Beijing, where we've booked a hostel for ourselves for 10 days. Our concern right now is obtaining the train ticket from Guangzhou to Beijing.  It's difficult and extremely expensive to book the ticket online, so we're going to try and have it booked by the hostel we plan on staying at. Wish us luck!
After Beijing and Chinese New Year, we'll be heading into South Korea. We'll travel east from Beijing and catch a ferry to Incheon, South Korea. We're slowly trying to put together a game plan for South Korea. We've started doing some research into a few volunteer programs, as well as looking into teaching English. This sounds like an easy enough task, but unfortunately it's been extremely difficult thus far to find a place to donate our time while in South Korea. Due to the difficulty, we're also considering signing a year teaching contract. There are quite a few benefits to signing up for a year, so right now we're keeping our options open.
Our 6-month stint in South Korea, would put us into mid-August. At the moment, we have no plans as to where we're headed next. We head back to the states for a wedding in late-September, so we'll have another month or so to explore. The front-running destinations at the moment are Taiwan, Japan, more of northern China, or back to Southeast Asia.
After the wedding, again, our plans are up in the air. We've been discussing trying a different part of the world, perhaps Central and South America.
We're always open for suggestions! Hope you have a great weekend.
---
Be awesome and help us share:
---