Itinerary Update
by Jason -- November 3, 2009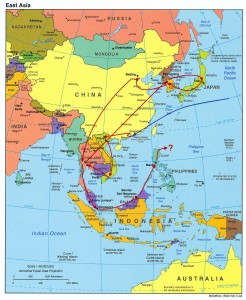 Greetings from a somewhat frightening bus bound for Guangzhou, China. The bus driver seems to have a tendency to honk violently at people on their mopeds while he nearly runs them over.
On a more pleasant note-we left Macau with money still in our savings account and actually won a little gambling! A shout out to lucky number 9 which came up on my last roll playing Roulette!
I wanted to use this post to update our itinerary plans. After hearing some feedback on our previous plans—mostly commenting on how cold it will be in northern China and South Korea between November and February—we've decided to adjust our itinerary quite a bit.
Here's the updated plan:
Vancouver -> Hong Kong -> Macau  (Complete)
Next: Guangzhou then Hainan Island
China – November
Vietnam – December
Cambodia/Some Thailand – January
South Korea – February through July
Japan – April perhaps
Northern/Central China – August through October
Back to Thailand – August through October
Malaysia – August through October
Singapore – August through October
Philippines – August through October
Indonesia – August through October
Laos – August through October
Taiwan – August through October
A few comments on the itinerary:
We still have a goal of spending some time snowboarding, which is why we'd like to try and get to South Korea before the snow melts in February.
A potential change of plans may occur with the Chinese New Year. We have not yet done our research, but this is something I think would be fun to experience in China, so we may add that to the itinerary.
Finally, there are too many places to see in the last planned 3 months of the trip. I doubt we'll actually go to all of those places; we'll have to make some tough decisions. For now though, they all remain a possibility. Also a possibility is extending the trip at that point. Only time will tell.
---
Be awesome and help us share:
---