Vietnam Culture 101 - What I Wish I Knew
by Jason -- January 13, 2010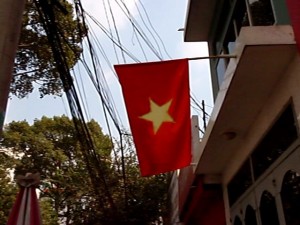 During our 5-weeks in Vietnam, Sharon and I picked up a good amount of knowledge about the Vietnamese culture. In this post, I'd like to share some of this information. The first few bullets center around things that are good to know as a tourist—information I would have loved to know before I got here! The second half are mostly random pieces we learned about Vietnamese culture.
Note: A lot of these observations are obvious generalities that aren't true of everyone. Additionally, most of this information comes from one person, so it could just be his view of Vietnamese people. This post isn't intended to offend, simply to impart some general information about Vietnamese culture.
Information that can be helpful as a tourist coming to Vietnam:
An open hand shaken by your head means "no thanks" – The movement is similar to saying something is "So-so" in America, except the hand should be vertical instead of horizontal. Very useful to know for all of the solicitors you'll receive while walking around.
Holding your hands together at your heart, and bowing means "I don't like it or want it, go away" – it's very harsh. Again, as a last resort this could be used with a pushy solicitor.

To be respectful to someone, shake their hand with two hands. When passing or receiving something (a cup, money, etc.) use two hands instead of one.

Tourists are almost always charged more for things. Negotiating is recommended. We were told though that sellers are more receptive to bargain with women than men.

They love US Dollars. In fact, nearly everything is quoted in US dollars. If you're paying in Vietnamese Dong (yes, Vietnam's currency is called "Dong"), you're at the mercy of the vendor's chosen exchange rate. This rate seems to vary quite a bit.
Other information about Vietnamese culture:
Holding up the middle finger means nothing in Vietnam, but crossing your fingers (like we do when we say "good luck") is like saying "F— You".
A great compliment to a Vietnamese woman (or man) is you look "fat and white". This is equivalent in America to telling a woman that she looks "skinny and tan".  The reason a woman likes to be fat?  It's a sign that she has money and enough food to eat. Women like to be white because it means that they don't work in the fields.
Vietnamese people are infatuated with big noses and big eyes and will often have surgery to get them.
The Vietnamese language is tonal – meaning depending on the way with which you say a word, the exact same word can have a completely different meaning. Example: The word "Ma" said flatly means "ghost". "Ma" with your pitch rising means "cheek". "Ma" with your pitch falling means "but".
40% of people in Vietnam are considered tribal. There are over 30 different languages spoken among the different tribes.
Women typically do not smoke or drink in public. We were told if you see a woman in a bar smoking, she is most likely a prostitute (or a tourist).
In the typical married household, women do all of the cleaning, cooking, and taking care of the kids (and many times will have a job on top of this). On March 8th every year, for one day, the roles are reversed and men will do the cooking and cleaning. On March 9th, it's back to normal.
Vietnamese people have a tough time speaking English because Vietnamese is very throaty. English uses the tongue a lot at the front of the mouth. When Vietnamese people speak a lot of English their tongue will feel sore from doing so.
If you've got some good information about the Vietnamese culture I missed, let me know. I'm sure this is only the tip of the iceberg.
---
Be awesome and help us share:
---