You know you've been in Vietnam for too long when…
by Sharon -- January 4, 2010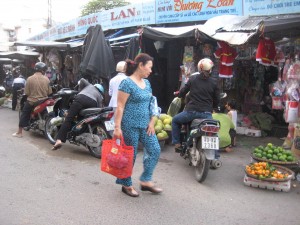 I gave China a Top Nine list, so it's only fair to give the same honor to Vietnam.  Granted, the change between China and Vietnam wasn't extreme for us because we had been in China for a month already before entering Vietnam.  Nonetheless, after spending four weeks in Vietnam, there have been some interesting epiphanies about the fact that we are actually adapting to life in Southeast Asia.
Here are the top 9 indicators that you may have been in Vietnam for too long…
You think Pho is now boring (the staple Vietnamese noodle soup that once was a hot commodity to you in the States).  We can distinguish between bun, mi, bahn, and bo, and we can also name where certain foods originated from.
You no longer see your life flash before your eyes when you cross the street in Saigon or Hanoi.
You walk away from $5 restaurants.  If we're going to eat at a restaurant that's going to cost us $10 or more for the total bill (including a couple beers), it's got to be something spectacular or at least cooked by Bobby Flay himself.
You've been to more than two Vietnamese weddings in a month.  FACT: We have attended two Vietnamese weddings in our one month stay here.  Weddings here do not include guest lists, name cards, or seating arrangements, so it's normal for randoms to be invited, let alone a table full of whities if your relative runs a tourist business.
You find yourself using Vietnamese lingo.  Their favorite phrase is "same same", which roughly means "the same as".  They love pointing to me while saying "same same?" and then pointing to themselves, thinking that I am Vietnamese.  They also sell shirts on every block that say "Same Same".
You don't even think about singing karaoke on stage unless you know the lyrics by heart already and you have a dance performance to go with it (preferably you're wearing a white disco suit).
You bought your first matching pajama set and now wear it all day long.
You no longer bother with learning Vietnamese because it's obvious that there will be enough English to communicate efficiently.
You aim for consuming 1/4 of the amount of alcohol you can handle while hanging out with Vietnamese locals.  The reason for this is because they are so excited to drink with you that you end up drinking about double the amount that you think you're drinking…
It's pretty funny to think that because of these reasons, we will experience some culture shock when we go back to our motherland.  Fifteen dollars for dinner?  Preposterous!  For our health's sake, and our dignity's sake, it's a good thing that we don't eat fast food.  Just because it's closer to SE Asia prices doesn't mean we will eat it when we're back home (but we will probably wear our matching pajamas).  The minute we start bargaining the price down at Safeway, however, please put us in our place.
---
Be awesome and help us share:
---