Rock the Cat Ba (Island), Vietnam
by Sharon -- December 14, 2009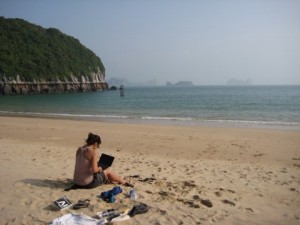 Good morning, Vietnam!  (That one was for you, Burns).
China and Vietnam seem to be two very different animals.  To put it simply, China is a freakishly large country, so the amount of travelers in any given city in China is going to be much smaller due to the fact that they are so spread out.  On the other hand, Vietnam sees so many tourists and the country is so much smaller than China that any given city in Vietnam has a huge amount of travelers.    For this reason, Vietnam has TONS of English.  Just about every person in Vietnam that we have encountered speaks at least minimal English and a lot of them speak excellent English.  Whereas in China we had to look for restaurants that had separate English menus, here in Vietnam we have not been to a single restaurant that did NOT have English on their general menu.
This is a good thing because of the following:
1. We can get by very easily without learning much Vietnamese at all.
2. We will know exactly what we are eating.
3. We are less likely to fall into a scam.
4. This makes transportation infinitely easier.
5. We can actually read street signs even if they are in Vietnamese because Vietnamese uses Roman characters, which makes navigating the cities much easier, which means we don't get lost as much, which means we stay alive.
This is a bad thing because of the following:
1. It's harder to motivate yourself to learn the language when you don't really have to it at all.
2. We can't make fun picture stories with the Chinese characters.
That being said, we have only been to three major cities here in Vietnam, but the amount of struggling to find our hostels or times getting lost around town has been almost non-existent.  These three cities have been Hanoi (the capital of Vietnam), Cat Ba Island (Halong Bay), and Hue.
Among these three cities, Cat Ba has made the biggest impression on us, simply because it was an absolutely beautiful area.  The main tourist area of Cat Ba consisted of a simple town right along the ocean where you could pick any one of the seemingly hundreds of hotels along the coast and have a beautiful sea view of diamond-covered ocean, karst mountains, junker boats and floating restaurants.  We stumbled upon an extremely nice hotel that had a sea view balcony right next to our room where we sat and watched the sunset with a couple of beers.
More importantly, this was our very first experience with a motorbike.  We rented a motorbike (for a whopping $3 a day) and had an amazing time driving around the gorgeous island.  Jason mostly drove since I didn't trust myself with the vehicle, but I must admit there were a couple of scary moments involving a tiny bit of swerving on loose rocks in a remote area where we saw a couple of "the others" walk toward us with bamboo  (we've been watching a lot of LOST lately….).
Vietnam seems to be treating us very well.
---
Be awesome and help us share:
---