Life in Seoul
by Jason -- April 11, 2010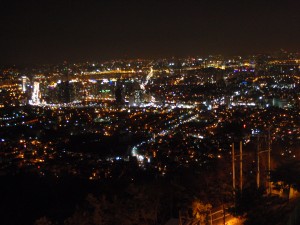 Our lives have fallen into a routine now that we've settled down in an apartment in Seoul, but there have been a few things happening that I thought would be fun to share. The following is a hodgepodge of our ongoing's since arriving in Seoul.
Passover in Seoul
This is the first time I've been away from home for any of the major Jewish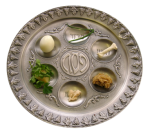 holidays. Being in Seoul, I assumed there would not be many options for a Jew to celebrate passover, but I was surprised to find out I was wrong.
There is a Chabad house here in Seoul, which puts together events for the Jewish holidays. Chabad is an orthodox organization with houses around the world providing a local Jewish community. Passover was held at a hotel not far from our apartment, where about 100 people attended. There was a large mix of English teachers, travelers that just happen to be in Seoul, people stationed here from the military and others. The Chabad even flew in 2 Chassidic Jews from Brooklyn to help with the event. Overall, I was very impressed with the event and it was great to be able to connect with other Jewish people here.
Hiking to the top of Seoul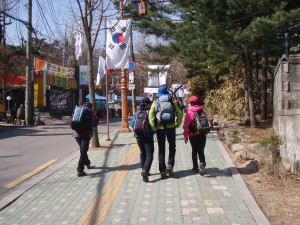 Every weekend riding the subway, you can't help but notice the large number of people decked out in hiking gear. They've got their poles, special hiking shoes, expensive windbreakers, and their backpacks packed full of stuff. I was excited to see these hard core hikers in action. They did not disappoint during our first hike up Mt. Baekundae.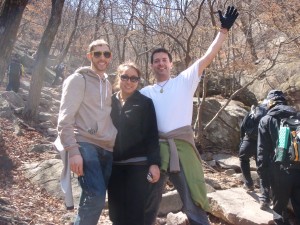 The mountain was absolutely packed with people who were taking advantage of the first warm weekend day in months. One of the most interesting Korean hiking traditions: at the top, you're supposed to enjoy Kimbap (Korean sushi) and Makali (rice wine). I found it fitting that Koreans have managed to find a way to bring alcohol into an activity that probably should not have any alcohol involved with it. Once we arrived at the top, sure enough,  there were a hundred or so hikers enjoying their Kimbap and sucking down Makali. I enjoyed some Kimbap, but passed on the Makali.
Korean Class & Taekwondo
Our weekdays consist of a routine that includes Korean language class on Monday, Wednesday and Friday afternoons as well as Taekwondo every evening for me.
Taekwondo has been an interesting experience, as the teacher of my class, the master that owns the gym and the other students speak very little English. There are about 10-15 people in the class, most of them being 17-year old Korean boys. All of the other members are black belts and obviously far more advanced than I. I'm slowly learning the routines and technique, but it's been difficult. I plan on writing a more in-depth post about my Taekwondo experience in the future.
Korean class has been more difficult than I initially assumed, though we're progressing nicely. There are only 7 of us in class which has been nice in terms of getting personal attention. It's been an extremely humbling experience, as I am by far the slowest student. I've been having an extremely difficult time memorizing vocabulary words.
All of our latest pictures from Seoul have been added to our photo gallery. If you have any questions or comments we'd love to hear them on the blog or through email.
---
Be awesome and help us share:
---