TWiSt Seoul 2 - Live Tomorrow!
by Jason -- December 16, 2011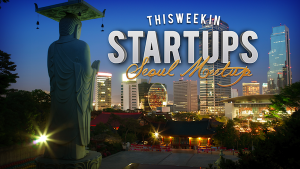 Back in August I partnered with Seoul Space to bring the first "This Week in Startups" Seoul meetup episode. It was a lot of fun, so we're doing it again. This time, hopefully even bigger and better than the first.
You can watch our episode live online today (December 16th) on the "This Week in Startups" website.   It starts at 7pm Pacific, 10pm Eastern and 12pm Seoul (17th). And if you miss it live, you can watch it anytime on the "This Week in Startups" website.
The second time around has been a lot easier to setup. I knew what to expect and I was able to reuse many of the pieces from the first time. Because of the success of the first event, getting out the word was also easier. Let's hope everything comes together again. Right now over 125 people have registered to attend — and we're hoping for 150!
If you'd like a preview of the companies pitching, you can check out the Twist Seoul blog post.
I'll be hosting the live event in Seoul today as well as hosting during the live broadcast. I'll be the one wearing the Unanchor shirt

.
---
Be awesome and help us share:
---