Weddings, work, and more weddings!
by Sharon -- November 18, 2010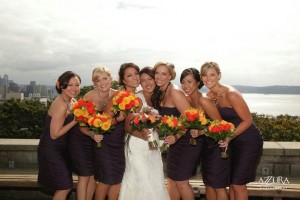 Although I am technically unemployed, I have a full-time job.  This wedding planning stuff has really taken over my jobless life!  I mean this in the best way possible, I really do, because I absolutely love planning my own wedding.  Besides, how else am I going to plan an amazing party in 3 months?
There are, however, a couple of complications to this full-time wedding-planning lifestyle…
In order to meet the minimum required qualification "status" for my English teaching program in Korea, I had to sign up for an online class.  This class will provide me with a TEFL (Teaching English as a Foreign Language) certification.  The class consists of 20 units, 20 worksheets, and one final exam at the end.  The great thing about this class is that you can make your own schedule; you can do it whenever and wherever you want, so long as you complete the final exam within 6 months.  The problem with this class… is that you can make your own schedule.  I'm not the most self-motivated person in the world (or even in this room I'm sitting in right now) and so this wedding stuff has completely taken over any motivation I had for this class.  I haven't done any classwork for almost 3 weeks because of it!  I really need to kick myself in the a** if I'm going to complete this before I leave for Korea!
Speaking of EPIK (English Program in Korea), I'm finally "done" with the paperwork and interview process.  Unfortunately, I use the word "done" very loosely in this case.  I am still waiting for my FBI criminal record check (which I will also have to get notarized and Apostilled, of course, before I send the photocopies and original copy to Korea- I am starting to think that everything is worthless without a government Apostille nowadays) and the approval from EPIK that my documents are complete.  So in other words, EPIK will have me sitting and waiting around for the next phase of the process for a couple more months.  Without sounding too dramatic, this EPIK thing has also taken over my life.
My friends and family have been teasing me about how quickly things have happened for this upcoming wedding, and for good reason.  I bought a wedding dress three days after I got engaged (although in my defense I wasn't planning on finding one that day, let alone buying one), we found a venue a week after, we sent out our "save the dates" two weeks after, I found bridesmaid dresses less than three weeks after, we have shower and bachelorette party dates set, and I already designed our invites.  However, when you're unemployed, your full-time job becomes wedding planning.  And, when you're planning your wedding in three and a half months, these things have to happen ASAP!
---
Be awesome and help us share:
---