The End of Our Life After Cubes?
by Jason -- December 23, 2011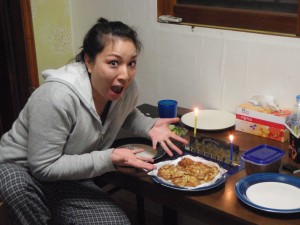 We quit our jobs, sold all of our stuff and left the states in October of 2009. We traveled through Asia and visited 10 different countries. Next, we headed back to the states for a couple months and got married. Most recently we've lived in South Korea for a year teaching English (Sharon) and launching an online business (me). The next phase of our life has finally been decided — Sharon and I are officially moving back to San Francisco. We've booked our 1-way tickets back home – February 17th ICN-YVR-SFO.
Sharon's 1-year teaching contract is up February 15th. We always knew she wasn't going to sign on for another year. We had considered staying another year with her at a different teaching job. I also applied for incubator programs with Unanchor in San Francisco, Chile and New York — all of which have not worked out. Ultimately it's time for us to return home.
Our plan when we return is to look for jobs. Having found a passion for startups and entrepreneurship, I'd like to continue working with startups or join one.
Sharon is considering going back to school and getting her teaching credential as well as applying for the "Teach for America" program.
What does this mean for Unanchor?
Unanchor has not taken off like we had hoped. However, there are a lot of positive signs, so we're not going to give up. Like many entrepreneurs, Unanchor will become my "nights and weekend" project. We're going to continue improving it and hopefully one day it can become my full-time job again.
Finding a Job
I was thinking about it the other day and I realized I hadn't looked for a job since I graduated college in 2005. A lot of things have changed since then. Any advice?

Twist Seoul 2
As an aside, I co-organized and hosted the "This Week in Startups" Seoul meetup episode last Saturday. It was another successful event. We had over 125 people in attendance and 5 amazing companies pitched live on the show. Check out who won and what Jason Calacanis had to say about the Korean startup companies –
---
Be awesome and help us share:
---