Dog Soup and Korea
by Jason -- May 17, 2011
People have always joked to me that Koreans eat dog. There have been many times when I told people that I lived in Korea and the first question they've asked is, how many times did you eat dog? Having lived in Korea well over 7 months (including last year) and never actually having seen a Dog restaurant, I thought it was a myth. I assumed it was North Koreans who ate dog, giving South Koreans a bad name. It turns out, I was wrong.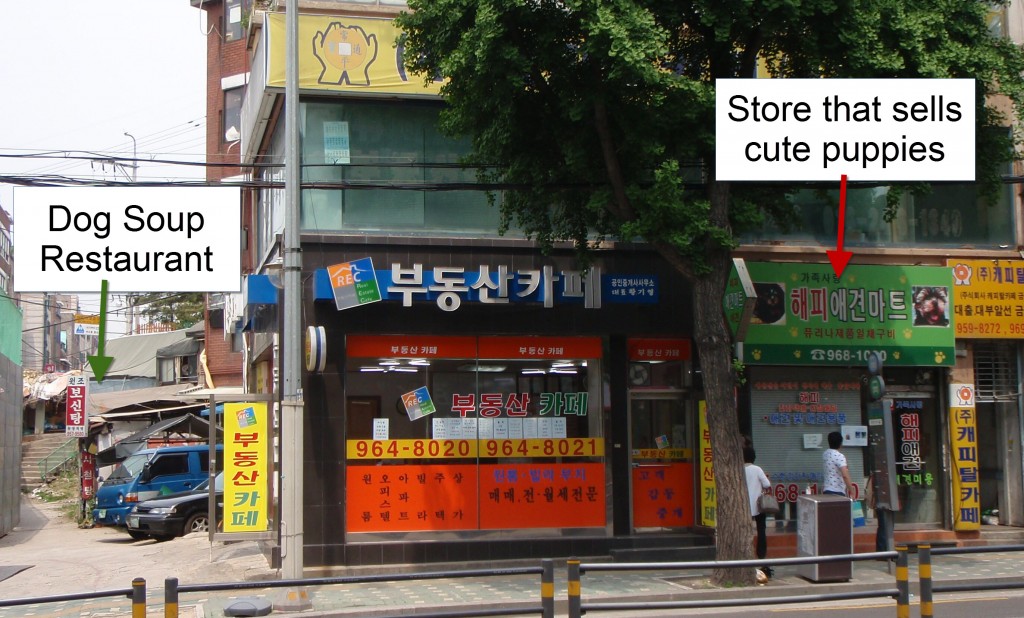 Last week I found out how to say Dog Soup in Korean (보신탕) and have now found 2 places within a 5-minute walk of my apartment that serve it. One is a hole-in-the-wall that was actually on my list to try (I'm a sucker for hole-in-the-wall restaurants).
The irony of this place is amazing. As you walk towards the restaurant you pass an animal store with adorable puppies sitting in the window ready to be purchased. Literally 2 doors down and around the corner…dog soup restaurant.
I wonder if the puppy salesmen ever gets desperate to make a sale and says, "Today's the last day for this little guy. Unfortunately he's getting old and we're going to send him next door…unless you can take him off of our hands" while gesturing towards the dog soup restaurant.
The real question of the day is, do I try dog? I'm pretty tempted…just to say I have.
Random Additional Fact: In Korean, dogs say "Mung, Mung" — instead of the English equivalent "Bow-wow" or "Bark, Bark". The nickname for Dog Soup is then of course "Mung, Mung Soup".
---
Be awesome and help us share:
---