The Slow Carb Diet – Korean Style
by Jason -- June 20, 2011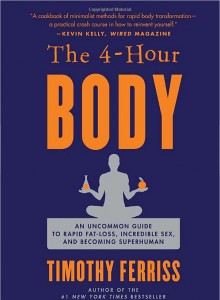 A few months ago I read Tim Ferriss' latest book, The 4-Hour Body. I enjoyed it and would recommend it to those interested in learning more about health, nutrition and exercise. One of the key parts of the 4-Hour Body, is the diet he recommends to follow — the "Slow Carb Diet". I've decided to follow this diet and in the following post I'll tell you why I like it. I'll also include all of the changes I've had to make to it in order to make it more feasible in Korea.
What is the slow carb diet?
For 6 days a week the diet is:
No carbs
No sugar
No fruit
No dairy
Then, there is also 1 cheat day where you can eat and drink anything you want (although it's recommended to still eat a proper breakfast on cheat day).
What I like about the diet
For those who know me well may be wondering why I'm "on a diet". I'm not overweight and generally consider myself to be quite fit.
First off, it's not really a diet, but more of a lifestyle change. I enjoy eating like this and don't plan on going back to my old way. The two primary aspects of this diet that appeal to me are:
As long as you eat food that follows the rules of the diet, you can eat as much as you want. In fact, Tim says that you'll need to eat a lot more than you think. Carbs are a calorie dense food and taking them out of the diet means you need to eat more to ensure you're consuming enough calories.
One day a week is a cheat day, where you're supposed to eat all of the things you're not allowed on the diet.
Before this diet I essentially tried to eat every meal healthfully, hardly ever allowing myself to "cheat". Allowing myself one day a week for ice cream, tteobokki, doughnuts or whatever else I want to eat is great. I love the structure of the diet.
Breakfast
I have begun my day essentially the same way for the last 25 years — a bowl of cereal with milk and a sliced banana on top. Unfortunately, all of those things are a no-no on this diet. Now, I eat 2 eggs, spinach, and beans, topped with salsa. It's a delicious and filling meal and I don't miss my old breakfast at all. Check out this video from Tim showing you how to make this breakfast in 3-minutes:
My additional notes for Korea:
I've looked for egg whites at all of the major grocery stores, but have not been able to find them. For now, I'm eating 2 eggs with the yolk. I realize this may be bad for my cholesterol and so I've been considering taking out the yolk.
I have high blood pressure and don't want to eat canned beans. Instead, every 2 weeks I buy about a kilogram of beans, cook it all up and freeze the extras. In the morning I microwave a few spoonfuls and top it with salsa.
Buying the beans from the grocery store turned out to be very expensive. After searching around, I found a small vendor who specializes in beans. She sells black beans for 2,500Won for 700 grams – far cheaper than the grocery store.
Instead of frozen spinach, I buy fresh spinach, cut off the stem, rinse and microwave it — just as easy as Tim's frozen spinach.
Lunch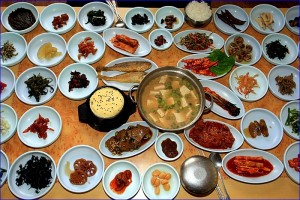 Because I work by myself at home, I use lunch as an excuse to get out of the house and see other human beings. This means that I eat out every day. The best meals I've found to be slow carb friendly are jjigaes (stews). Kimchi jjigae (김치찌개), Doenjang jjigae (된장찌개) and Sundubu jjigae (순두부) are what I primarily stick with. The banchan (sides) served with all Korean meals are almost always slow-carb friendly. The hardest part is the fact that these soups are meant to be eaten with rice. Because of this, I typically cheat a little and eat some of my rice with my soup.
Korean barbeque is another really good meal that's slow-carb friendly, but it's more expensive and not typically eaten by yourself. Because of this, I tend to stick with the jjigaes.
Dinner
Being the house husband, I'm now in charge of cooking dinner. Cooking delicious slow-carb friendly meals has come with some trial and error, but I've got it down now. I have 8 meals that I rotate through. Most of them share the same core ingredients – onions, peppers, mushrooms, garlic, broccoli, cauliflower and chicken. I originally found recipes online, but had to change the spices in almost all of them because it's difficult to find spices in Korea that are common in the states (cilantro and cumin for example). If you're looking for slow-carb friendly recipes that you can easily make in Korea, you can download my spreadsheet of dinners (of course I have a spreadsheet of dinners!). I have all of the cooking instructions in there as well as ingredients. This spreadsheet is all I use now when I cook.
A sampling of some of our typical dinners:
"Pasta" with sauce — To make it slow-carb friendly, the "pasta" is string mushrooms, bean sprouts & zucchini cut into string-size pieces
Tofu mashed "potatoes" — Again to make it slow-carb friendly, the "potatoes" are cauliflower.
Yellow curry chicken soup — The main ingredients are beans, chicken and peanuts.
Chicken Chili — The main ingredients are chicken, beans, topped with a can of stewed tomatoes.
============================
Have you ever tried a no-carb diet? Are you trying Tim's slow-carb diet? What do you think of it? Let me know, leave a comment below.
Full Disclosure: The links to Amazon are affiliate links, by using them you're supporting our blog, thanks!
---
Be awesome and help us share:
---