Bento: Founded, Incubated & Launched!
by Jason -- March 14, 2015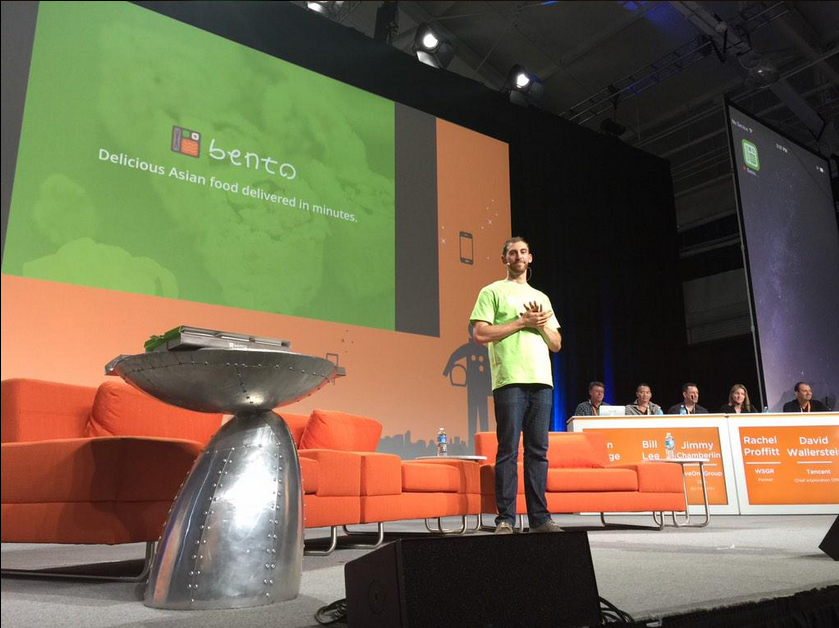 Last Monday, March 4th I officially debuted Bento at the LAUNCH Festival. It was quite a journey to get here and there are multiple stories to tell, but in the following post I'm focusing on the experience going through Jason Calacanis' first LAUNCH Incubator.
First: What is Bento?
We deliver delicious Asian food in minutes (average delivery time is 15 minutes). Through our iPhone app (Android coming soon!), you can customize a Bento — 1 main dish and 4 sides. We have 3 options for mains and 6-8 options for side dishes. All dishes rotate daily. After building a Bento, add the delivery address and then we deliver your custom Bento in just minutes. That's it :).
We're starting with dinner in San Francisco, but plan on adding additional geographies over the next year.
More on how we make it all happen in our 5-minute pitch:
Joining the Incubator
I officially left LAUNCH in mid-September to work full-time on Bento. Six weeks in, I received a text message from Jason C. (he's on the left):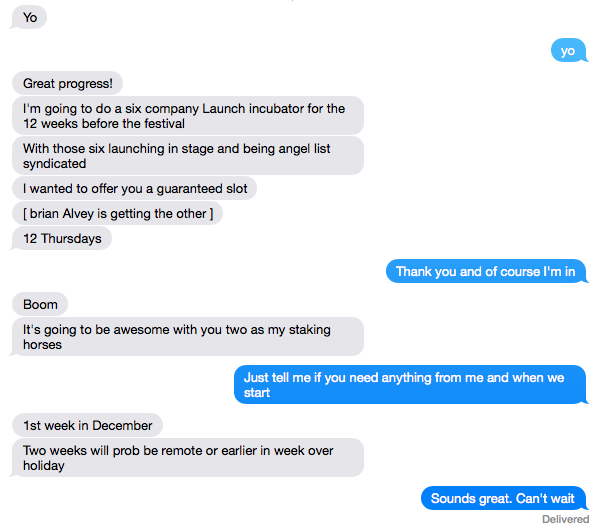 Literally, the next day, Jason announced The Incubator to his 200k+ Twitter followers & 50k+ email list.
What was the Incubator?
The Incubator consisted of 7 companies all meeting for dinner every Thursday night. We also had big name guest speakers join us — Kara Swisher, Keith Rabois, Gil Penchina, Sam Shank, Steve Huffman, Jared Fliesler, Josh Elman, Sahil Jain, Josh Williams and many others.
The first half of each Thursday, all 7 Incubator companies gave their 5-minute pitch. Jason and the guest speakers would follow with questions and critiques.
During the second half, the speaker(s) gave a presentation on their expertise. Most of these talks were turned into This Week in Startups episodes.
What did Bento get out of the Incubator?
There were countless benefits – here are 6:
Really smart people thinking about your business every week.
My favorite story in this regard is about the development of my tagline. Josh Williams was the speaker (Formerly Gowalla, now Last Guide). I gave my pitch with my usual tagline — "Healthy Asian Food Delivered in Minutes". And Josh asked, "what is healthy Asian food?" My answer was: "it's just regular Asian food". It was then that I realized that my tagline didn't make sense. Asian food is already healthy. We changed it on the spot to "Delicious Asian Food Delivered in Minutes". It's still not perfect (too long), but I dodged a bullet by removing "healthy".
On a scale from 1-10, my pitch went from a 2 to a 9.5.
Initially, I thought it was self-serving to LAUNCH that we practiced our pitch every single week. Doing this wasn't preparing the company for success, it was only preparing me to pitch at the LAUNCH Festival. But now armed with a honed pitch, I'm extremely grateful. It has helped in countless ways — investor meetings, pitching to new employees and just talking with friends. Most amazing? Not being nervous in front of 3000 people while on stage at the LAUNCH Festival!
New founder friends - aka "the magnificent 7″
Being the CEO can be lonely. It's easy to think that our challenges are unique and other companies at our position *must* have figured these out already. Hearing similar challenges from fellow founders is very therapeutic.
Helped recruit my cofounder
I joined the Incubator as a solo founder. I had been talking with my eventual cofounder Vincent about joining, but nothing was finalized. Giving him the opportunity to go through the Incubator with me was a big selling point. It's something he can take with him regardless of what happens at Bento.
The LAUNCH Festival
As the former CEO of LAUNCH I helped grow the LAUNCH Festival from 2200 to 9000 attendees. This year they had nearly 12,000 attendees! Debuting a product in front of that many people is a priceless opportunity. Being in the Incubator meant we went first, giving us the most "bang for the buck" during the conference.
Funding
Everything about going through the Incubator made raising money easier: being syndicated on AngelList, perfecting my pitch in front of investors, improving the product and pushing us to be ready by March 4th.
Not everything was perfect, but for its first class, it was very impressive. I'm very jealous of future classes — I can't imagine how great the experience will be.
Have questions about the Incubator? Leave a comment.
---
Be awesome and help us share:
---