Our Itinerary!
by Jason -- August 26, 2009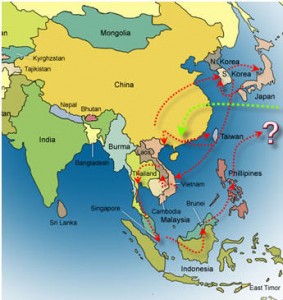 I have a shocking announcement to make…are you sitting down? I'm sure you are…most people don't read the computer standing up.
My announcement: I plan on creating practically no itinerary for our trip!
This is the exact opposite of how I tend to do things in my life. However, I could not be more excited about not having an itinerary! Out of the many things I'm concerned with for this trip (Sharon packing too much, my Dad's never ending emails & my Mom wanting to videoconference everyday), not having much of an itinerary is not one of them.
With that said, here is our very rough, very subject to change itinerary. It's in the order we plan to visit:
Hong Kong – October
Taiwan – End of October thru November
China – December  thru January
South Korea – February thru July
Japan – April?
Vietnam – August-October
Cambodia – August-October
Laos – August-October
Thailand – August-October
Malaysia – August-October
Singapore – August-October
Indonesia – August-October
Philippines – August-October
That's the short list of countries we'd like to visit!
On a side note: A potential big change to our itinerary could come from our friend Shaneil, who has a cousin that runs a school in Nepal. If we're able to volunteer there, that may throw this entire itinerary into disarray.
Post South Korea, our trip has a lot of places to visit in a short period of time. If everything goes well, this would be the portion of the trip we extend out further than a year. By the time August comes around, we should have a good idea of how our money situation is looking to see if we can extend our trip. Otherwise, we'll probably end up shortening that list.
---
Be awesome and help us share:
---