So THIS is why Nichole loves Canada!
by Sharon -- October 23, 2009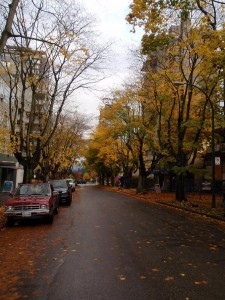 Before visiting Vancouver, Jason and I had heard nothing but rave reviews on how gorgeous and awesome the city is.  We wondered what could make Vancouver so awesome- wasn't San Francisco, also a big city, just as cool?  It took nothing more than daylight to show us how different Vancouver is compared to other cities on the west coast.   Although our first full days of this trip have consisted of nothing but walking, restaurants, rain, and a lot more walking, it didn't take long for us to both fall in love with this place.  Yes, it is very reminiscent of San Francisco in the sense that there is every different type of person to be seen all around the city and the look and feel of the buildings and shops are very similar, but there is more of an east coast feel to Vancouver with the amount of nature that is embedded inside the city.  We are lucky enough to be here when the leaves are turning the most amazing shades of yellows, reds, oranges, and of course bright green.  We have been finding ourselves taking tons of pictures of the city's trees, and thus feeling very touristy.  (Just like how we used to get annoyed with all the tourists taking pictures of Lombard St).
Our first full day in the city was spent walking across the Granville Bridge to Granville Island where we roamed around the very cute town and ate lunch at the Public Market.  What a great place!  I am very confident in stating that on Tuesday, October 20th, I ate the best sandwich that I have ever had… in my LIFE.  If you want details on what was on the sandwich, please inquire.  Then we took the Aquabus to Yaletown and later met Holly, Cole, and Courtney for a delicious and fun Thai dinner on Davie Street.  (Thanks so much for coming, that was a fun night for Jason and I!!!)
After spending our first two nights in a 4-person shared hostel room, we decided that we wanted a little change of atmosphere and booked our remaining 4 nights at a different hostel across town.  We were able to get our own private room for the same price as the first hostel and had a great view from our room.  On Wednesday, we walked down Robson Street which is famous for its many shops, ate a delicious Korean meal, and headed to Stanley Park.  Other than the outrageous amounts of walking we did at Stanley Park, we had a fun time checking out the area and taking in the breathtaking views of the Seawall and the scenic hiking trails.  By the time we walked all around Stanley park and then back to our hostel, I was limping, had to take frequent breaks just for my feet's sake, and had practically pulled a groin muscle.  But, other than the shooting pains, I would call it a very successful day!
On Thursday we went to Lynn Canyon Park, a beautiful area where you can hike and cross waterfalls on a Suspension Bridge.  Then we hiked in what looked like the wilderness, Jason dead lifted a fallen log, we saw a few gorgeous waterfalls, and then we left and walked through Chinatown.
Random Thought of the Night: I have been in Vancouver for four full days and have not caught any glimpses of the Twilight cast.  Big let down.  R-Patz, where are you?
Some more info on Granville Island.
---
Be awesome and help us share:
---