The 7 Link Challenge
by Sharon -- August 2, 2010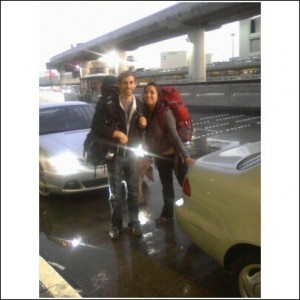 Our last day in America! Can you believe that was over 9 months ago?
One of our favorite travel bloggers recently took the 7 link challenge and after reading further about it, it sounded like a fun idea. So, both Jason and I have compiled and completed the 7 link challenge. Please join us on a trip down memory lane…
Our First Posts
Jason's First Post – Random Thoughts From My Cube With 14 Weeks To Go
Sharon's First Post – Cutting the Keyboard Cord
Posts We Enjoyed Writing
Jason - The Great Adventure of Lunch in Haikou – This experience was so ridiculous that as soon as I came back from lunch I started writing. I had so much fun writing this post that the initial draft was waaay too long!
Sharon - The Top 9 Things about China that Shocked Us – This was one of my first posts and also the first time I truly felt that what I was writing about needed to be written!  Mainland China was our first stop into culture shock, so I will forever read this post and remember that feeling.
A Post Which Had A Great Discussion
Sharon - Dating in Korea – This was one of my more recent posts and developed a nice discussion panel in the comments section.  I asserted many of my own opinions on dating in Korea, and although they were just observations, many people agreed/disagreed with me on them.  It's great knowing that people take what I write seriously, even if some of my writing does drip with sarcasm.
A Post on Someone Else's Blog I Wish I'd Written
Jason - Nomadic Matt – "Why Americans Still Don't Travel Overseas" – There were actually two parts to this post, here's part 1. This is a topic I've spent a lot of time thinking about. Matt's post summarized the arguments well.
Sharon - YouOffendMeYouOffendMyFamily – I recently discovered this blog while searching for information on Koreans and their insane drinking habits, only to find an entire website's worth of fun stuff.  One of them being a link to the "6 Most Terrifying Foods in the World".
Your Most Helpful Post
Jason - "Visa Requirements for Asian Countries" – This list took a long time to compile and I'm proud of how helpful it is. Visa requirements are an annoying aspect of travel and I hope this helped (and will help) people planning on traveling to Asia.
A Post With A Title You Are Proud Of
Sharon - "Rock the Cat Ba (Island), Vietnam" – It's obvious that this title parodies the song "Rock the Casbah" (and is also extremely corny) but it just makes me smile each time I think about it.
Jason - "Geoarbritage – Holy !% that's cheap" – It took me a long time to choose the symbols that looked right. I think it's the exclamation mark that really makes it look right.
A Post That I Wish More People Had Read
Sharon - What is this, a trick question?  I guess if I were obligated to answer this, I would have to say "14 Engrish Signs to Make You Laugh" just because I think everyone in the world deserves to know how awesome these horrible translations are.
Now I ask you: what's your favorite blog of ours?  Do you even read our blog?  If your name is Holly, you probably do.
Random Thought of the Day: How awesomely random is this?
---
Be awesome and help us share:
---