Sharing Some of My Favorite Links From Around the Web
by Jason -- May 24, 2010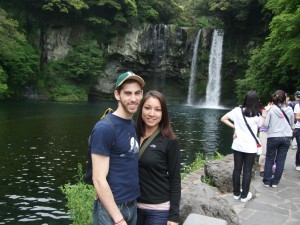 This update comes from Jeju Island - the "Hawaii of Korea".  We've been enjoying some very strange weather as well as hiking, lots of eating and other very typical touristy things. More on this later in the week.
Twitter has become a great tool for us. We share what we've been up to, where in the world we currently are and you can get information about what's going on before it hits our blog. I also share cool stuff I find around the web. Here are some interesting links I recently shared:
Travel Related Links
Adventurous Kate: Best of the Week - Sharon's article on Korea's Fashion was recently named one of the week's best over at Adventurous Kate. There are some other great articles on the list as well.
The Cleanest Race – This is an extremely interesting interview with an American professor who teaches in South Korea and studies North Korean culture. If you're curious about what life is like in North Korea, this is a great article to learn about it. Warning: It's really long.
How To Create Your Own Personal Travel Security Plan – Great post from Foxnomad with some very useful security tips. My personal favorite: Put your money under your dirty underwear that you left under your bed.
Visiting Schools in Haiti – My friend Shaneil is creating an add-on dock for the One Laptop Per Child project for his Masters project. He recently traveled to Haiti in order to see how kids use their free laptops. This was my favorite of his blog posts, where he visited a school and interacted with the kids.
Entrepreneurial Links
Mixergy Interview with Paul Singh – Paul is the founder of MailChimp and is building a fast-growing business by only investing money he's made from the business and has a lot of really helpful tips on doing the same. He's also an entertaining interviewee.
FounderDating – New site I recently found. If you're an entrepreneur or an aspiring one and looking for partners, this seems like an excellent program. They have events in Seattle & San Francisco.
JetSetCitizen Interview with Brandon Pearce – This interview basically encapsulates exactly what I'm trying to do (I think). Brandon started an online company, it became his full-time job, and now he's hired people to run it for him and lives in Costa Rica with his family. Awesome.
For all the latest, make sure to follow us on Twitter, we're @jasondemant.
---
Be awesome and help us share:
---