Unanchor.com Announcement & Update
by Jason -- March 16, 2011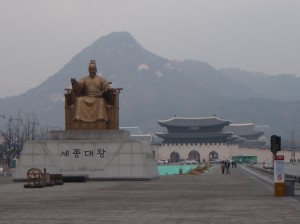 Hello from Seoul, South Korea (again)! Sharon and I have officially settled in and are happy to be back. More on that in a future post.
In today's post I have an exciting announcement regarding Unanchor and I'd also like to give an update on the latest progress of the business.
What is Unanchor?

As a quick reminder, Unanchor.com is my travel startup company. We're trying to cut down the amount of time it takes to research what to do and how to get around for your next vacation. To accomplish this, we sell self-guided tour itineraries.
The Announcement: Unanchor is Now Paying Itinerary Writers Upfront!
We've launched a new program today that pays writers an advance of up to $100 once an itinerary is approved. The great news is that writers will still earn 75% from each itinerary sold. This offer is only available for the first 50 approved itineraries.
How it works
Writers fill out our itinerary writer application form.
Once the application is approved, we'll put the pending amount of the revenue advance into their Unanchor account.
Write and submit the itinerary.
After the itinerary is approved, we'll release the money. We'll pay via check or Paypal – there's no fee for either.
How You Can Help
This is a great opportunity to earn some extra money from your knowledge of your hometown, current town or your travels. I'd really appreciate if you could share this announcement with anyone you think may be interested. Use any of these links to do so:
Share this on Facebook | Share this on Twitter | Email this to a friend
For more details on this announcement, check out our Unanchor Blog post.
Unanchor Update
Now for a brief update on what's new with Unanchor.
Itinerary Writer Profiles – We've added itinerary writer profiles. We believe that travelers will want to "get to know" the people behind the itineraries. And we now give them the ability to do that.
Blog – We've launched a Blog where we'll be posting travel tips, travel entrepreneur interviews, Unanchor product updates and much more.
Incorporating – Unanchor Inc. is now officially a Delaware C-corp. It was an interesting and exciting process interviewing lawyers, choosing one, and then incorporating. It was also unfortunately a rather expensive process.
Itinerary Proof of Concept – While not officially rolled out to our site yet, the most exciting thing we've been working on is what a future Unanchor itinerary will look like. Check out our 1-day San Francisco itinerary proof-of-concept. I'd love to hear your feedback on our proof of concept.
What's Next?
Itineraries! – It's been far more difficult than I initially believed to get quality itineraries written for the site. Most of my focus will be spent on finding people who want to write itineraries.
Country/City Pages – Right now, we lack a clean way to organize the site. In the next few weeks, we're going to roll out country and city pages that will initially have only basic information on the destination and a list of the itineraries we have for the destination.
Proof-of-concept Rollout – We don't have a date set on the site-wide rollout yet, as there are quite a few details we still need to work out. The biggest one is, how will itinerary writers submit the itineraries? This is something we continue to work on.
Check out our Unanchor Blog Post for more on our new payment structure.
Help us share this announcement:     Facebook | Twitter | Email
As always, thanks for your support!
---
Be awesome and help us share:
---