The Art of Finding Anyone's Email Addresses
by Jason -- May 22, 2013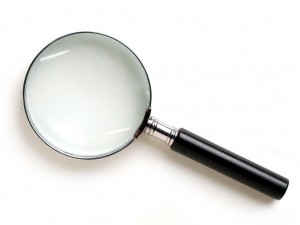 Since taking on my current sales/business development role, one of the skills I've gained is the ability to find almost anyone's email address. It's an odd skill, but I've found it to be useful time and time again. There's a system to how I do it, and in the following post, I'll share the system.
Update (5/29): Due to the popularity of this post, I've decided to build a Gmail tool that automates this process. More information is at the end of the post.
The difficult part about this post is that it would be best to use real examples, but for hopefully obvious reasons I'm not going to do that. Instead, I'll create a fake person that's based on a real person.
The Tools I Use
Rapportive.com - This tool integrates directly into Gmail. It looks at who you're emailing or who you're receiving email from and pulls up their social media profiles (LinkedIn, Twitter, Facebook, etc…). It's a great way to see the face of the person you're emailing and their latest tweets/updates to give the contact some context.
MailTester.com - This is a web-based tool that does a technical search to see if an email address exists. It's not 100%, but is very helpful.
Connect.Data.com (Previously Jigsaw) - Connect is a crowdsourced directory of people. Their amazing database contains millions of people's email addresses and phone numbers. It's being constantly updated by its members and has an impressive number of people in it. Because you need to earn points or buy points to download contact information, this is typically my last resort.
The Process
Let's hypothetically say I'm working on finding a contact within the Education Technology space. McGraw-Hill is one of the larger companies in this space and I'd like to start a conversation with the appropriate person.
1. Find the contact
Scouring LinkedIn and possibly the company website is how I would find a contact. I try not to spend too much time in finding the "perfect person", and instead try to find someone that makes reasonable sense. If they're the wrong person, there's a good chance they'll pass me to the right person. For this example, let's say I find Raymond Stuoper, who is the Senior Director of Technology Partnerships (real title, fake person).
2. Start guessing email addresses & use Rapportive to check
Rapportive integrates directly into Gmail and not only gives you social media information about people who email you, but it also tells you social media information about people you're emailing. You can type in any email address and Rapportive will look for social media accounts associated with that address. If it finds one, you know the email address is correct.
I start by trying the most common iterations of an email address:

If Rapportive doesn't find any social media accounts associated with an email address it will look like the above. This doesn't necessarily mean the email address is wrong, but it's generally a good indication.
The result: None of these worked.
Example of Rapportive successfully finding social media accounts tied to an email address: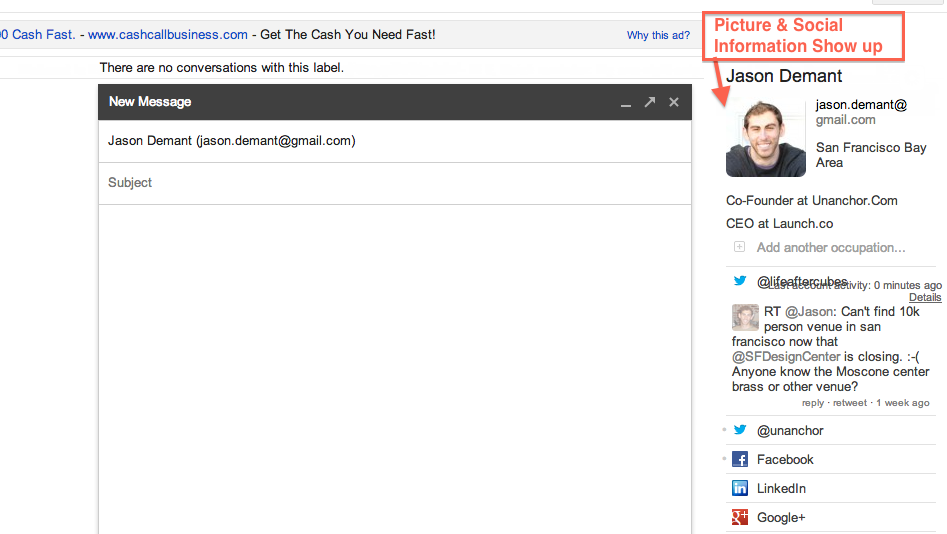 3. Start guessing email addresses & check with MailTester
MailTester is a web-based tool designed to test whether an email address exists or not. It's a bit slower than Rapportive, so I typically would only test the top 3 or 4 iterations.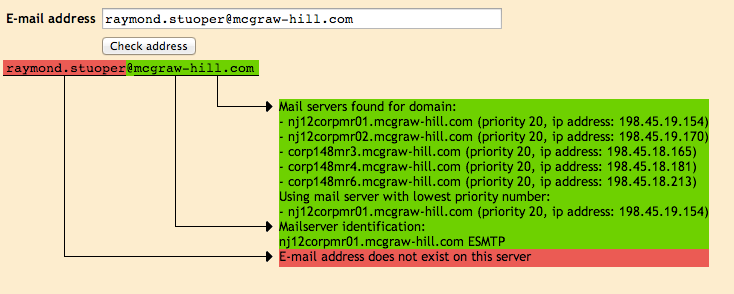 MailTester will show green if the email address exists. Example: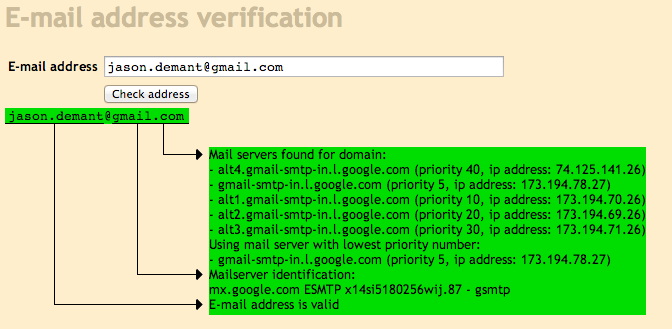 The result: None of these worked.
4. Use connect.data.com (previously Jigsaw)
Connect is a crowd-sourced directory of people. If someone is listed, by buying their contact information for 5 points, you'll receive their email address and phone number.
The process I typically use is to first look for the exact person and if not found, find someone else in their company so I can learn how the company structures their email addresses. For this particular one:
Raymond Stuoper isn't in the database (he doesn't exist).
Search for McGraw-Hill, order by most recently updated, and then look for someone with a title that sounds like they could be a good lead.
Note: You could choose anyone, as you're primarily doing this to find out the semantics of their company email addresses. But I like to choose someone who could be a secondary contact, in case the contact I'm searching for doesn't work out.

Buy the contact

After purchasing, you'll receive all of their information:
Through connect.data.com I discovered that the email semantics is "[email protected]". Our fake candidate's email address is thus most likely "[email protected]". We can try that with Rapportive and successfully see their social media information pop-up:

====================
Do you have your own tricks to finding email addresses? Are there even better tools out there to help with this process? Leave a comment below and let me know!
====================
Email Finder Gmail Tool
Going through this entire process is a pain. After verifying that so many people feel the same way I've decided to build a Gmail plugin tool that will do this automatically. If you're interested in being one of the first users of the tool, add your email address:
---
Be awesome and help us share:
---