Announcing UnAnchor 2.0
by Jason -- December 13, 2010

My co-founder, Mohammad, and I are very excited to announce that the next version of UnAnchor.com has officially launched. The new version has a brand-new design as well as a complete overhaul of the back-end code. In this post I'll be discussing the details of the new version and what we're working on next.
What is UnAnchor?
For those who are unfamiliar, UnAnchor is my travel start-up that launched this past May. UnAnchor is a marketplace of self-guided tour itineraries. Itineraries prioritize what to do and how to get around in your next travel destination so you can stop researching and start traveling.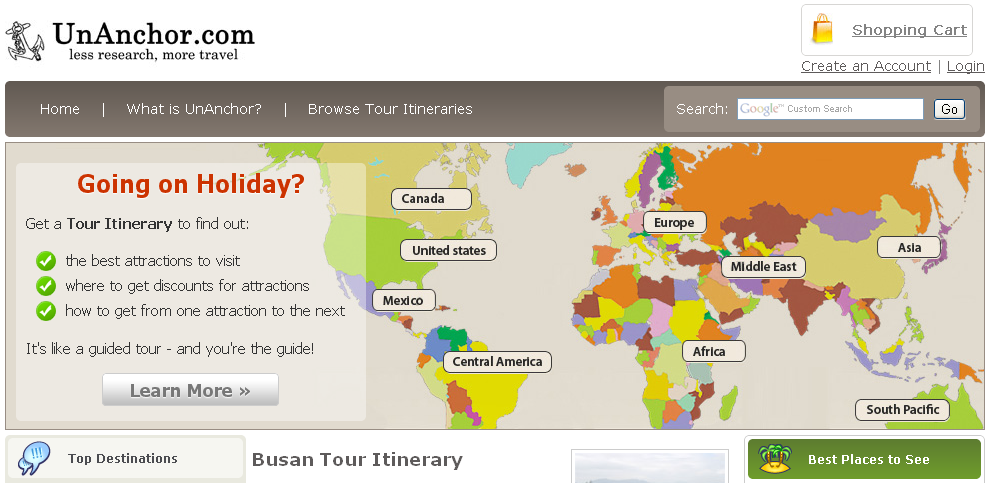 UnAnchor 2.0
This initial launch is primarily cosmetic. However, the site has been completely rebuilt and it will now be far easier to add new features and scale up the site.
For the technical audience, the site no longer uses WordPress and has been rebuilt using PHP and the Symfony PHP framework.
What's Next?
Now that we've officially launched the next version, we're going to continue to build out features with the next version adding:
Review System for the itineraries
Public Profiles for the itinerary writers
The two main focuses from the business side are:
Continuing to find itinerary writers
Forming a team of advisors to help guide the direction of the site
As always, thanks for your support! Be sure to check out the new version. I'd also love to hear your feedback:
What are your thoughts on the new design and the upcoming features?
Do you have recommendations on finding itinerary writers?
Finally, do you know someone or have a recommendation on someone who may be a good advisor? We're looking for smart people interested in helping a young startup. Ideally, they would be in the travel industry or have connections within the travel industry.
Shoot me an email (Jason.Demant [at] gmail [dot] com) or leave a comment below, I'd love to hear your thoughts.
---
Be awesome and help us share:
---